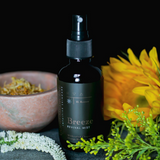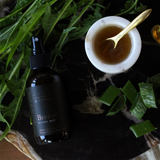 Good Medicine Beauty Lab
BREEZE Revival Mist

Wildcrafted Chaparral, Lime Essence & Aloe Vera
A refreshing breeze that calms the mind, enlivens the soul and soothes the skin. This wildcrafted, nutrient-rich fluid, quickly tones, revives, and refreshes the skin. Concentrated healing and anti-bacterial ingredients combine to create a toner that cools and calms and simultaneously combats blemishes and inflammation. Breathe deep and let its light, clean fragrance envelop you. Whenever you need a mini-meditation session, spritz, inhale and smell the desert after the rain. Fresh distilled limes and wild desert honey are among the heavenly ingredients that make Breeze the ideal hydrating toner as well as a magical portal to the top of a desert plateau.
Use Regularly To Help
Brighten & soften the skin
Smooth rough patches & red areas
Protect against inflammatory breakouts
Balance the skin's natural pH
Clear dead skin cells & harmful toxins
Balance the production of sebum
Regenerate cell growth
It's Good Medicine
Like dancing through forests of pine and fields of green, Breeze lifts, twists, and twirls on your skin bringing with it new life, freshness, and protection. Breeze is saturated in a glorious health-giving tincture of wild-harvested juniper berries, chaparral, and desert sage to revive your body, mind, and spirit.
Naturally Gluten-Free / No Animal Testing / Made In The USA
Spritz Breeze over the face in an even coat, or pour a small amount of the liquid into the palm of your hand. Touch your hands together, then using your fingers like a brush, stroke the skin in an upward motion, gently coating the skin. Breeze will restore the skin's protective mantle, and it can also be used after your makeup is done to set your look!
Aqueous infusion of desert sage**, juniper berry**, chaparral**, dandelion* and alfalfa*. lime essence*, aloe vera juice*, vegetable glycerin*, wild raw honey**, caprylhydroxamic acid, caprylyl glycol, citric acid (sugar derived), raw apple cider vinegar*.
*Organic **Wildcrafted
Wild Desert Infusion
Cell boosting immunity strengthens skin integrity, naturally occurring antibacterial agents treat and protect skin from acne, healthy cell support, boosts collagen, treats dryness, improves circulation, brightens, protects from free radical damage, calms, reduces redness, soothes irritated skin, detoxifies, improves circulation, supports healthy cells
Dandelion Leaf
Detoxifies, diminishes free radical damage, treats acne, firms, brightens
Aloe Vera
Calms, hydrates, balances, soothes, softens, fights inflammation, promotes healing
Freshly Distilled Organic Limes
Natural astringent action balances skin, fights blemish causing bacteria, improves skin circulation, and helps tighten the skin.
Wild Desert Honey
Powerful humectant, fights free radicals, treats and soothes irritated skin, promotes healthy cell turnover, plumps, calms, rejuvenates
Apple Cider Vinegar
Treats acne, restores balance, soothes irritated skin, increases skin health and ability to fight environmental issues, assists in delivering hydrating ingredients
We are women who know what we want. When we set out to create a line of clean, luxury skincare formulas SIZE was a top priority. Because yes, size matters. We want our customers to feel pampered, unlimited, and connected to our products. This is why we create highly-concentrated formulas (a little goes a long way) but we don't stop there. We strive to surpass standard sizes you have become accustomed to.
We feel like beauty industry standard sizes just aren't good enough. Our full-size facial formulas are usually twice the standard size. Our Deluxe Minis last for 2-3 weeks rather than a single-use sample that you find at the beauty counters. So go ahead, there is plenty in each bottle to treat yourself like the goddess you are.
Love Breeze!
This is like a cool breeze hitting your face when you spray it on! I really need it in a gallon size! I use it to set my makeup, a quick refresher for my face and always after cleansing.
Can't live without Breeze
Breeze is a refreshing product that makes your skin feel cool and awake. I used it as a toner both morning and night, to set my makeup and if I have been out in the sun just to cool my skin down. It is a must for your skin care regimen.
Breeze
Lovely refreshing mist to use at all times of the day! So gentle and clarifying
Breeze mist
This is very nice. Made my skin feel refreshed.
Love this spray!
I love how refreshed and clear my face feels after using Breeze