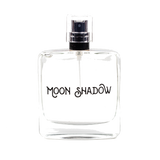 Good Medicine Beauty Lab
MOON SHADOW / botanical perfume

An Adventure in Flirtation
You are a mysterious creature, full of light and shadow; a shapeshifter, a seductress. Moon Shadow envelops you in velvety textures of rose and sandalwood. Notes of clove bud and cinnamon linger for a moment, adding a hint of spice.
Mood: flirty & seductive
TOP NOTES: Persian Rose
HEART NOTES: Sandalwood
BASE NOTES: Cinnamon & Clove Bud
Spritzer Base: Artisan alcohol
Roll-on Base: Sweet almond oil
We are women who know what we want. When we set out to create a line of clean, luxury skincare formulas SIZE was a top priority. Because yes, size matters. We want our customers to feel pampered, unlimited, and connected to our products. This is why we create highly-concentrated formulas (a little goes a long way) but we don't stop there. We strive to surpass standard sizes you have become accustomed to.
We feel like beauty industry standard sizes just aren't good enough. Our full-size facial formulas are usually twice the standard size. Our Deluxe Minis last for 2-3 weeks rather than a single-use sample that you find at the beauty counters. So go ahead, there is plenty in each bottle to treat yourself like the goddess you are.
Clean distinct smell
I got the sample in hopes that it would smell more earthy and natural than it did. It has a very distinct clean scent, probably from the artisan alcohol they use. It was too overpowering for me, no notes of sandlewood. Maybe the bottle was expired?
LIke a warm cup of chai
The clove and cinnamon linger and remind me of a warm cup of my favorite chai tea. Subtle notes of sweetness of the rose enhance the spice giving it a feminine touch without losing the heat of the base notes. Like all the scents in the good medicine line it is full of the goodness of the mother and make this old hippy's heart sing.
Moon Shadow Love
I was gifted this from my mother years ago. I've continued to use and love it to this day. Feminine, woodsy and sentimental. This is my favorite perfume from GM. You won't be disappointed!
Love it
I love this smell!! It does last!!
Love this fragrance!
I just received this in the mail and promptly put it on. I love it! On me, it smells more clean and exotic floral, less on the spice.
Good medicine fragrances are very light, only you and someone who comes close can really catch a whiff of it, but I'm ok with that subtlety. I like to have a touch of the fragrance after shower or just before bed.