Good Medicine Beauty Lab
The Beauty Chef Box
LIMITED EDITION
We have been working on something very special for you. Introducing the Beauty Chef Box. It is our new, limited edition beauty box. Each product is distinctively unique, expertly crafted, and only available here for a limited time.
Our Beauty Chef Box features FIVE brand-new formulas. Each is special and perfect for indulging any time. We can't wait for you to try them, and we really can't wait for you to love them!
FORMULA No.1 | CHEEKY BOOM BOOM
Lustrous Lip & Cheek Balm in "Kiss My Cosmos"
FORMULA No.2 | STARDUST
Luminous Body Soufflé
FORMULA No.3 | BLOOM
Wild Botanical Skin Tea

FORMULA No.4 | MUSCLE JOY
Ultra-strength Muscle & Joint Pain Relief

FORMULA No.5 | GOOD JUJU
High-vibe Hand Sanitizer
ALL SALES ARE FINAL ON LIMITED EDITION BEAUTY CHEF FORMULAS
We are women who know what we want. When we set out to create a line of clean, luxury skincare formulas SIZE was a top priority. Because yes, size matters. We want our customers to feel pampered, unlimited, and connected to our products. This is why we create highly-concentrated formulas (a little goes a long way) but we don't stop there. We strive to surpass standard sizes you have become accustomed to.
We feel like beauty industry standard sizes just aren't good enough. Our full-size facial formulas are usually twice the standard size. Our Deluxe Minis last for 2-3 weeks rather than a single-use sample that you find at the beauty counters. So go ahead, there is plenty in each bottle to treat yourself like the goddess you are.
TAKE A PEEK INSIDE THE BOX
CONSCIOUSLY CURATED BY OUR RESIDENT BEAUTY CHEF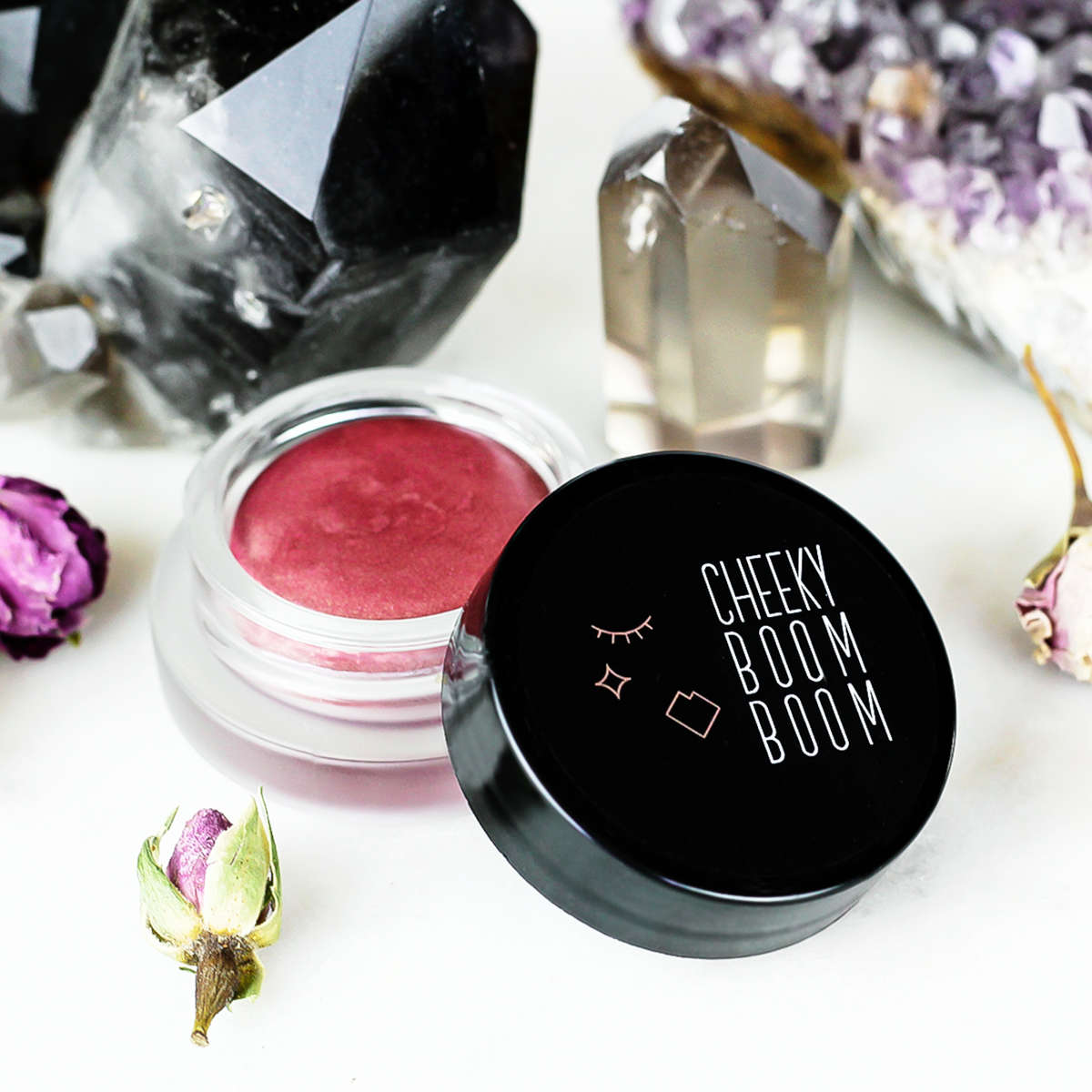 CHEEKY BOOM BOOM
KISS MY COSMOS
LUMINOUS LIP & CHEEK BALM

A kiss of rose, a hint of gold. Kiss My Cosmos is a universal shade that looks gorgeous on all skin tones, and brings an instant glow to your complexion. Shine bright as you enhance your natural beauty with nourishing gifts from the earth. You know we use only the best, natural ingredients. We are thrilled that we have created this lip and cheek formula and it is the absolute perfect weight and texture for both lips and cheeks, and that's no easy accomplishment.

When you apply Kiss My Cosmos, you are in control of the buildable color, it can be as subtle or as bold as you like. And you get to feel good about using it because you know it comes from our lab, where we focus on skin health and excellent ingredients. Of course it won't clog pores, but even more than that, it will actually nourish your skin while you wear it. Now that sounds beautiful.

.25oz Frosted Glass Jar
$20 Value

Ingredients: Wild beeswax, olive oil*, avocado oil, sweet almond oil, sesame oil*, kukui nut oil, castor oil*, shea butter*, cocoa butter*, mango butter,* jojoba oil*, aloe butter, coconut oil*, olive wax*, Vit E-T50. May contain ethically-sourced mica, titanium dioxide or iron oxide.
*organic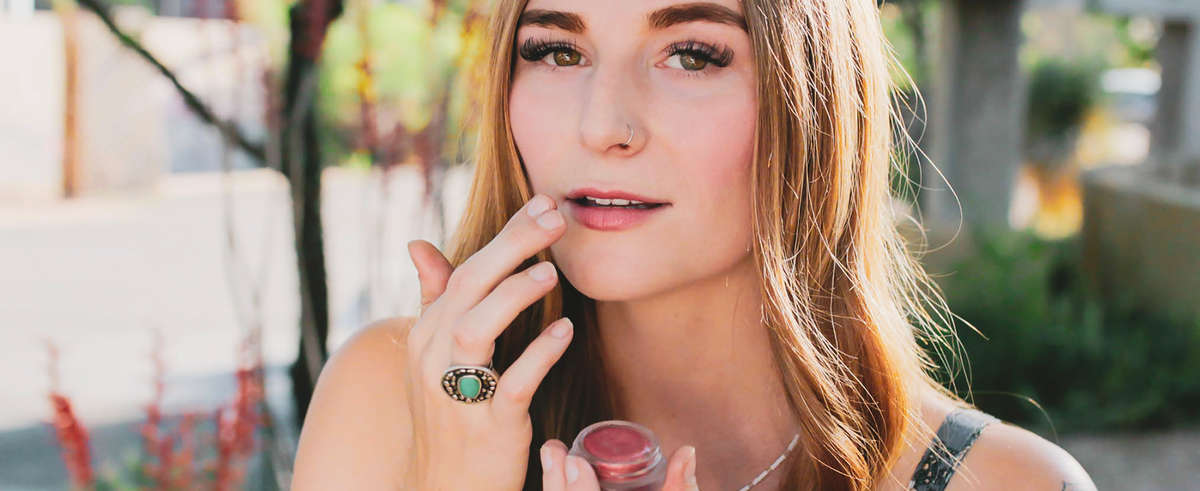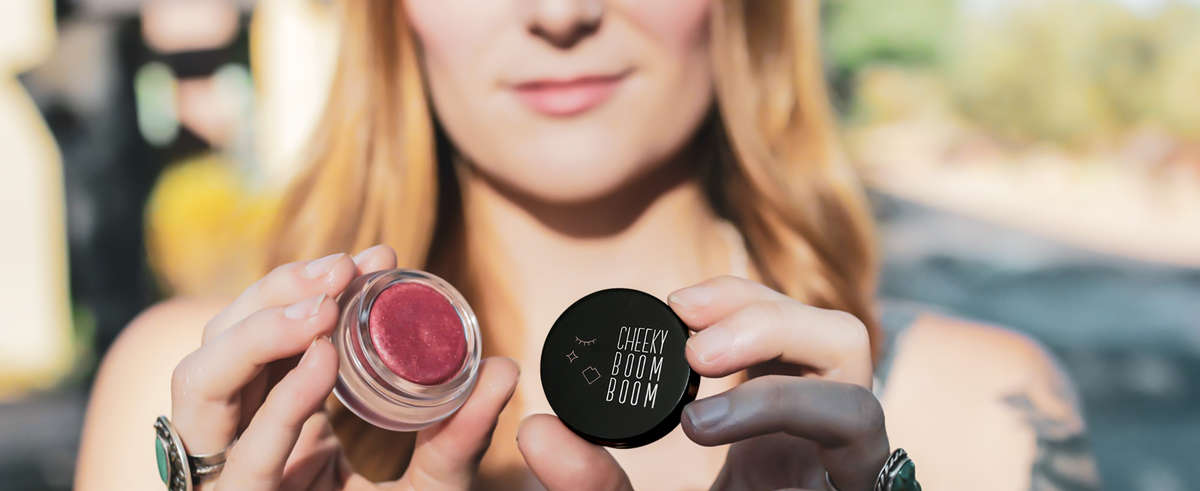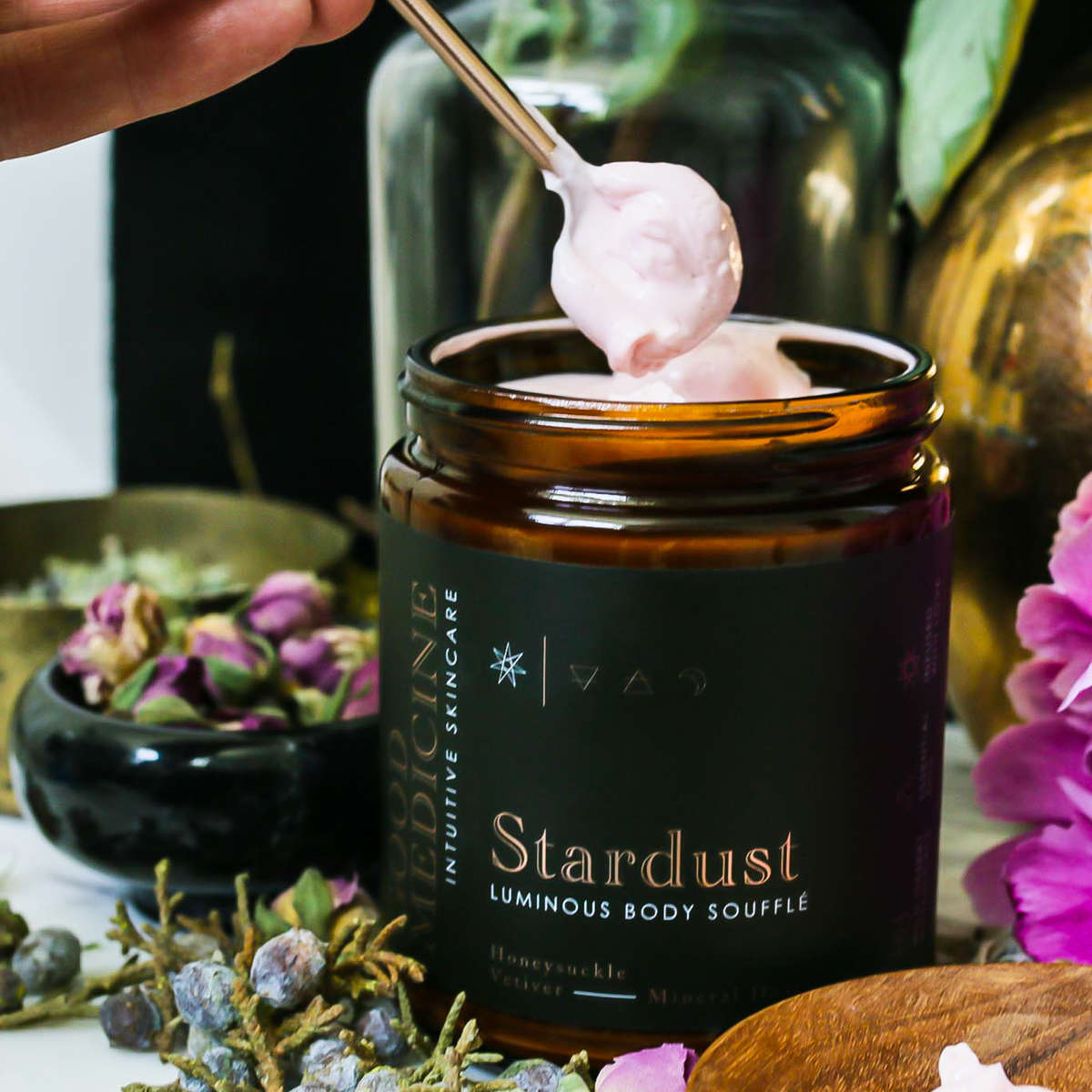 STARDUST
LUMINOUS BODY SOUFFLÉ

A sparkling pink body cream, softly scented with sweet honeysuckle and zesty citrus notes.

What was our Beauty Chef, Karen, thinking when she formulated Stardust, our limited-edition Luminous Body Soufflé? She was imagining herself on her back patio, bathing in the starlight on a magical desert night, surrounded by her beloved honeysuckle plants and freshly watered native grasses. That's why she scented Stardust with delicate honeysuckle accented with earthy vetiver, she wanted to send a little taste of the desert magic to you, wherever you are.

Karen added just the right amount of mineral dust to this hydrating formula to make your skin dance with light. Wrap yourself in a delicate layer of moisture, gorgeous sparkle, and intoxicating fragrance. Karen wanted to make sure we put this formula in "the big jar" so you would have plenty to last you through each warm, magical Summer night.

9oz Amber Glass Jar
$30 Value

Ingredients: Aqueous infusion of desert sage**, juniper berry** chaparral**, dandelion*, alfalfa*. Olive oil*, aloe vera juice*, glyceryl stearate, cetearyl alcohol, sodium stearoyl lactylate, cetyl alcohol, rice powder, sugar cane*, vegetable glycerin*, cold pressed coconut oil*, CO2 calendula extract*, wild raw honey, wasabi extract, vitamin E T-50, vitamin B3, caprylhydroxamic acid, caprylyl glycol. Honeysuckle attar, lemon EO, lemongrass EO, ginger EO, vetiver EO, peppermint EO, cinnamon EO. May contain ethically-sourced mica, titanium dioxide, iron oxide, and manganese violet.
*organic **wildcrafted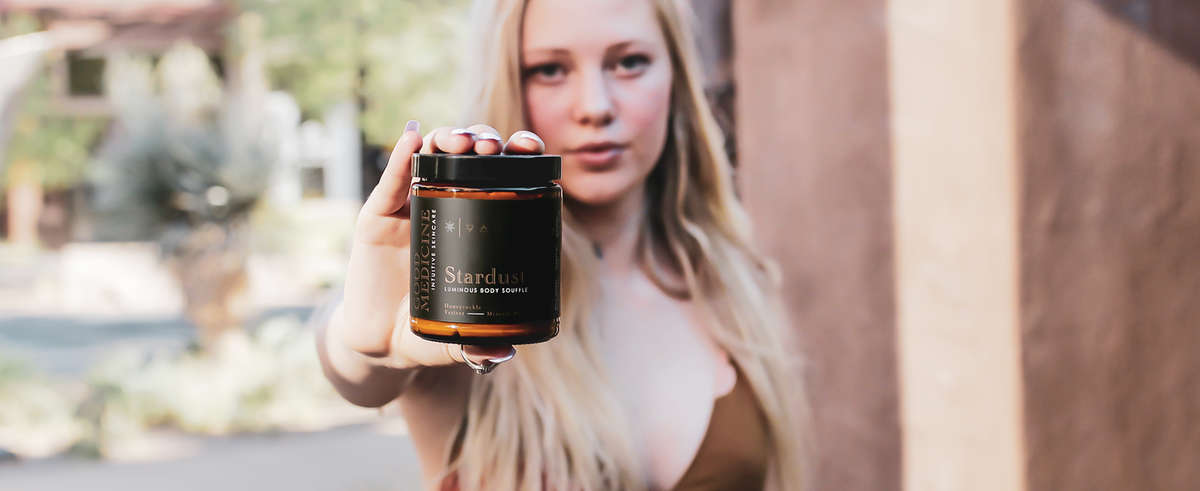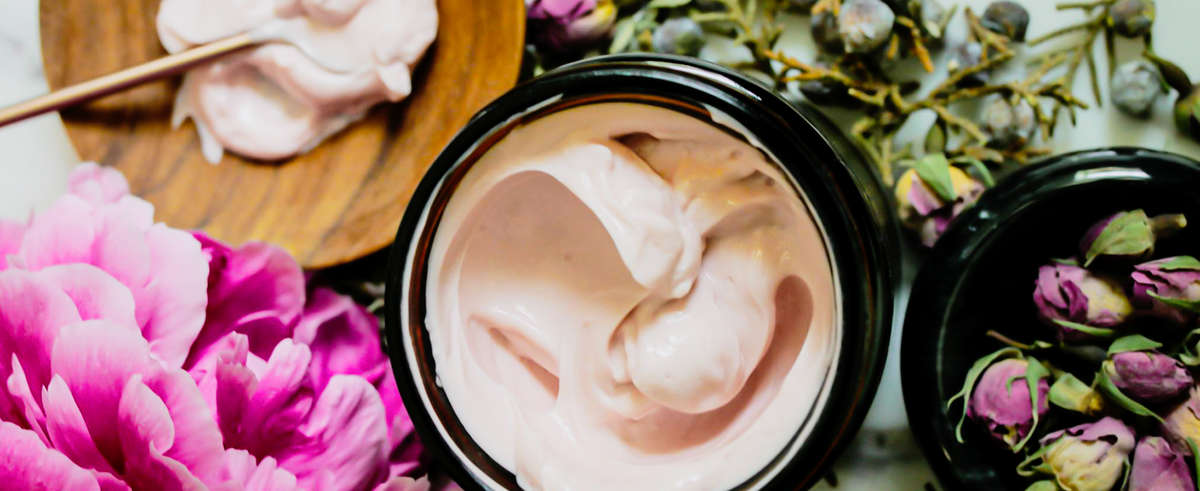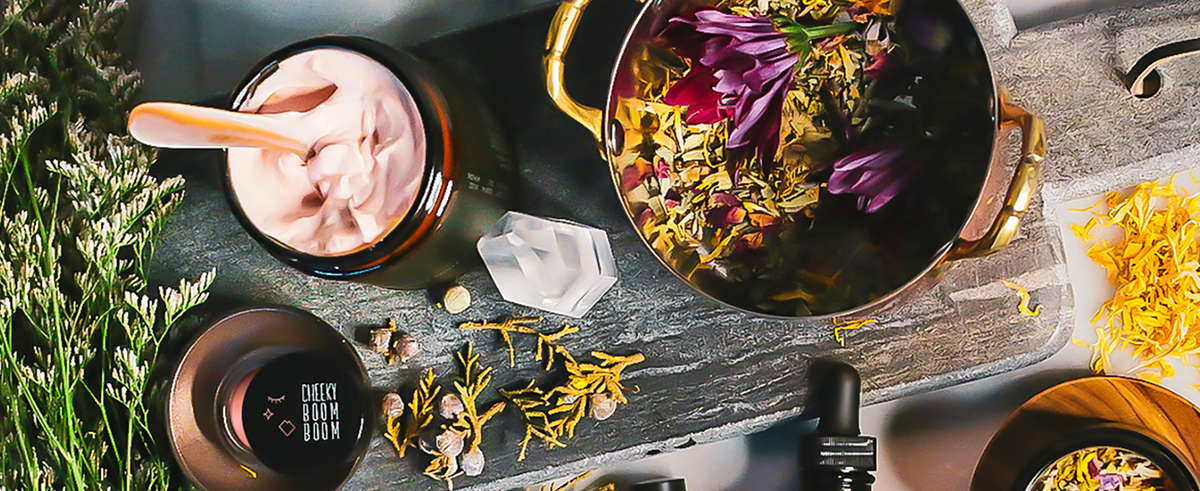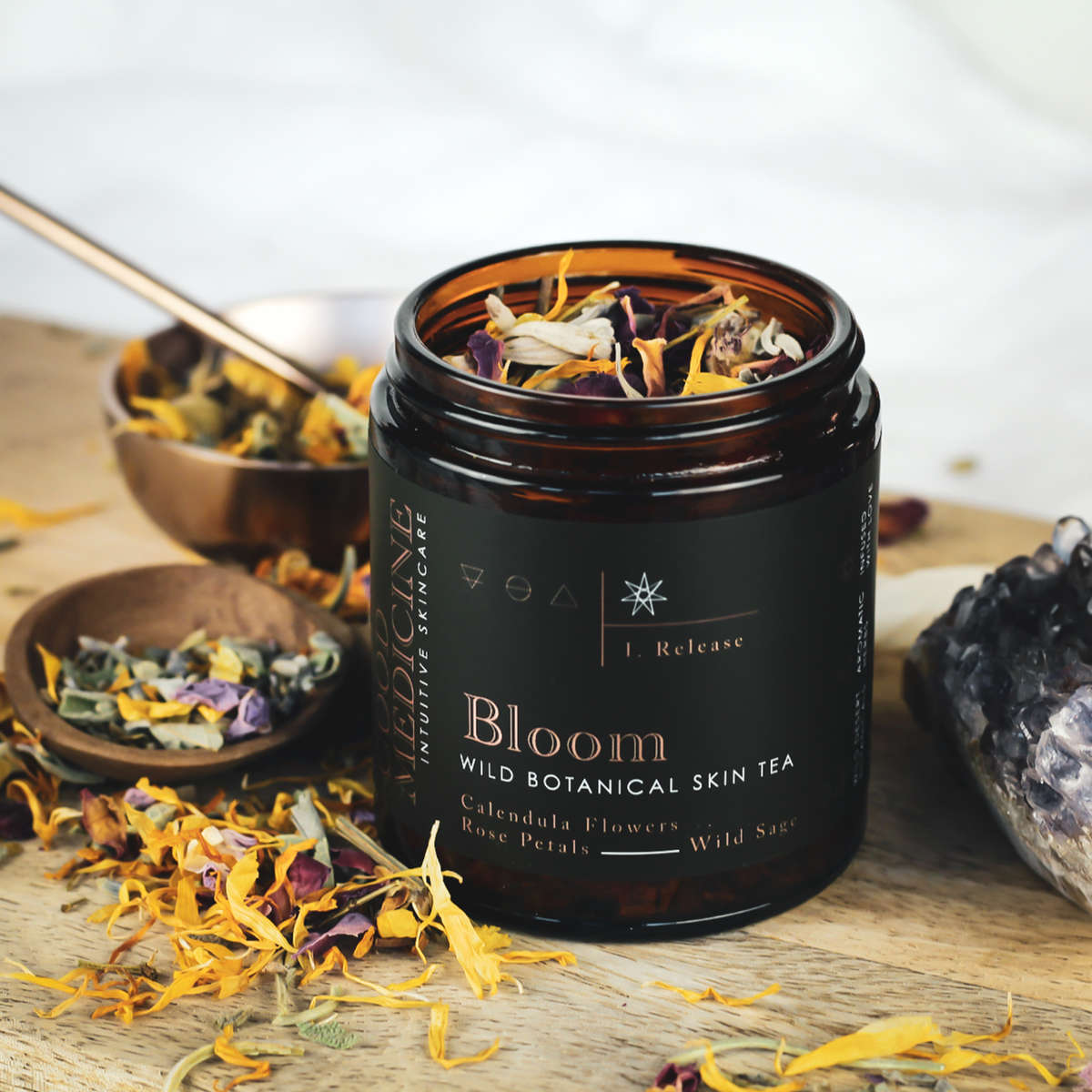 BLOOM
WILD BOTANICAL SKIN TEA

When Karen creates most of our beauty formulas, she starts with what we call our Wild Desert Infusion. Basically, she brews a big pot of tea, steeping precious desert-born herbs to bring out their soothing powers. She wanted to send this magical tincture right to you, in your own home, so you can breathe in the desert and absorb this goodness though your skin in its purest form.

When you add boiling water to Karen's proprietary blend, you activate the power of the calendula, rose, sage, chaparral, and juniper berries. Breathe in the essence of the desert as you invite the healing properties of these desert herbs to penetrate and nourish your skin.

4oz Amber Glass Jar
$28 Value

Ingredients: Wildcrafted desert sage, organic calendula flowers, organic rose petals & buds. wildcrafted chaparral, wildcrafted juniper berries.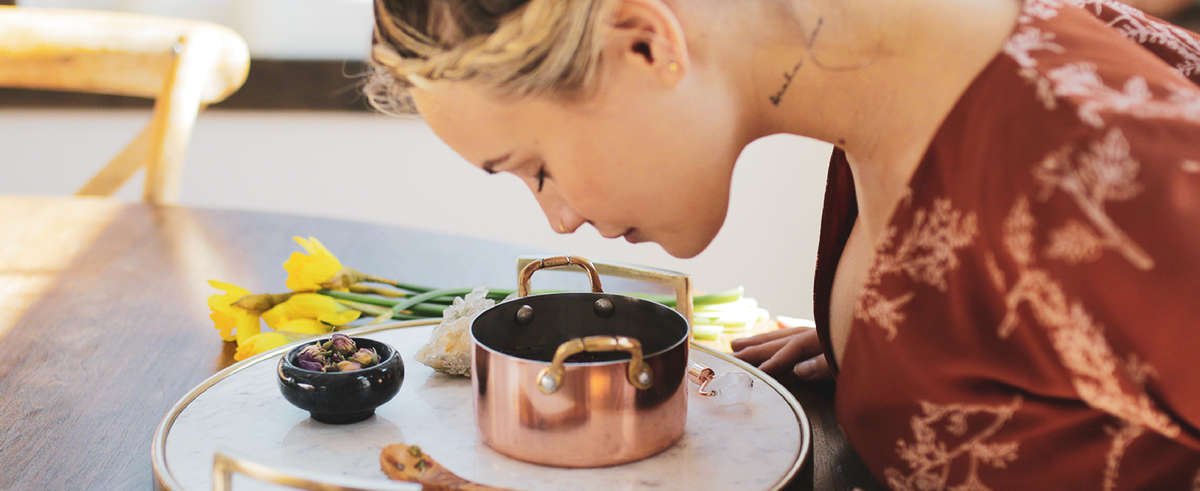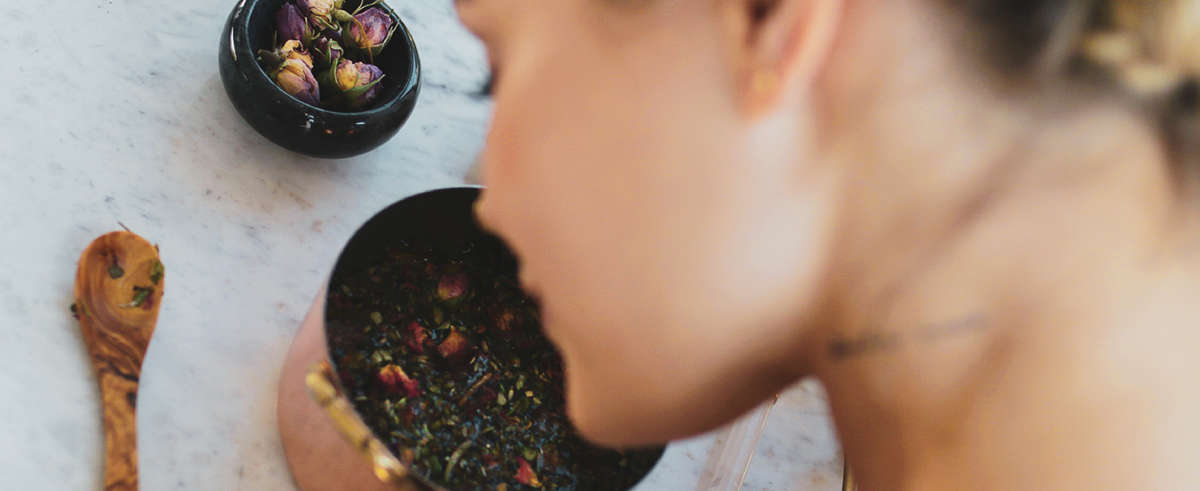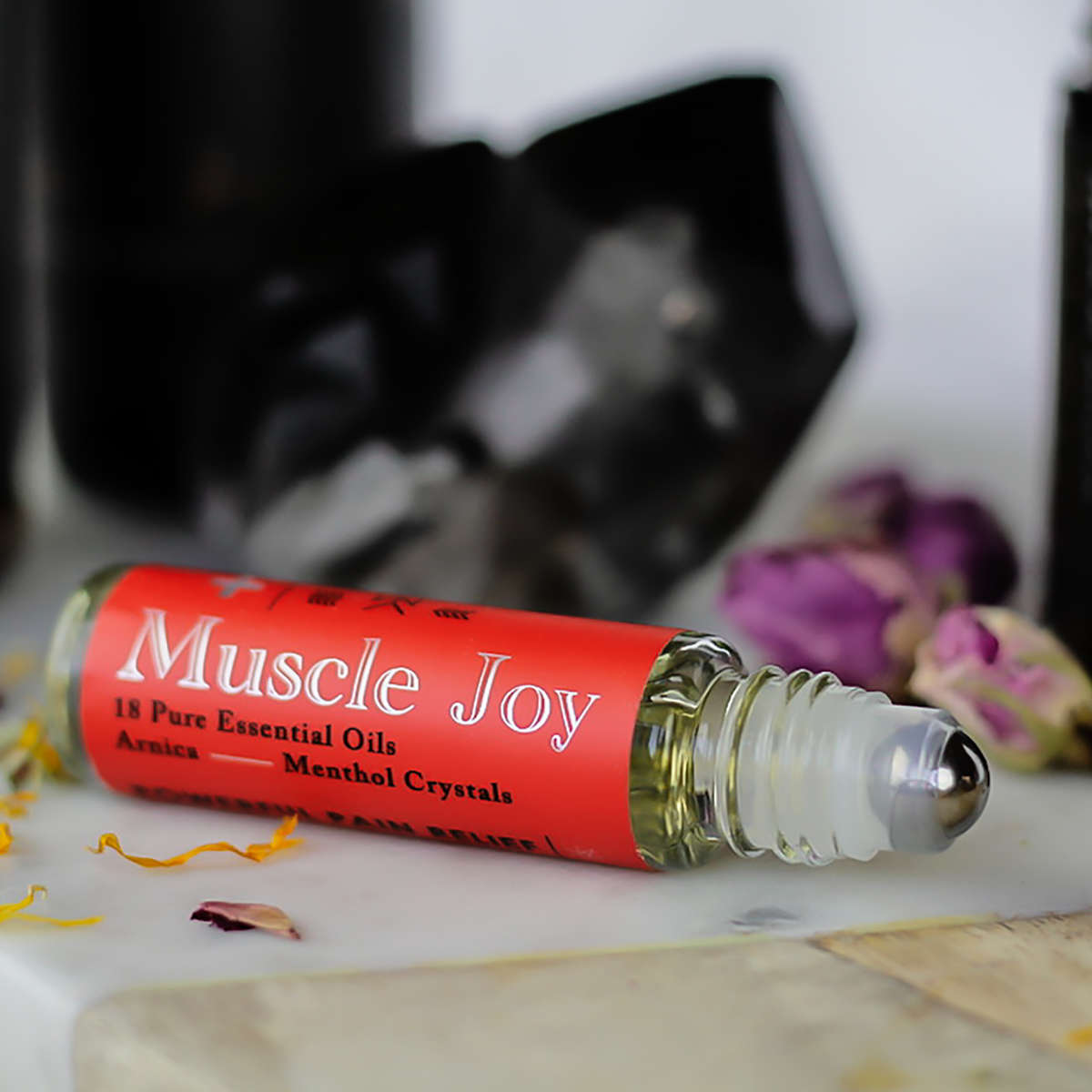 MUSCLE JOY
ULTRA-STRENGTH MUSCLE & JOINT PAIN RELIEF
Now in an amazing roller-ball applicator!

Karen doesn't beat around the bush. She gets right to the heart of the issue. Kinda like our new, limited-edition Muscle Joy. It's the same powerful formula (Muscle Balm) that you know and love, but Karen put this incredibly effective formula in a base of sweet almond oil. And it's packaged in a roller bottle so it's easier than ever to apply. Did we mention that the oil base allows it to be absorbed into the skin at record speed?

So if you just beat your own personal best at that hill climb on your bike, or hiked a splendid peak, or just slayed your at-home workout, Karen has got your back. Literally.

10ml Glass Roller-ball Applicator
$24 Value

Ingredients: Peppermint EO, white camphor EO, lavendee EO, tea tree EO, lemon EO, ginger EO, nutmeg EO, juniper berry EO, rosemary EO, cinnamon EO, wintergreen EO, eucalyptus EO. black pepper EO, clove bud EO, birch EO, arnica EO, galbanum EO, cayenne EO, menthol crystals, sweet almond oil, vitamin E-T50.
EO: Essential oil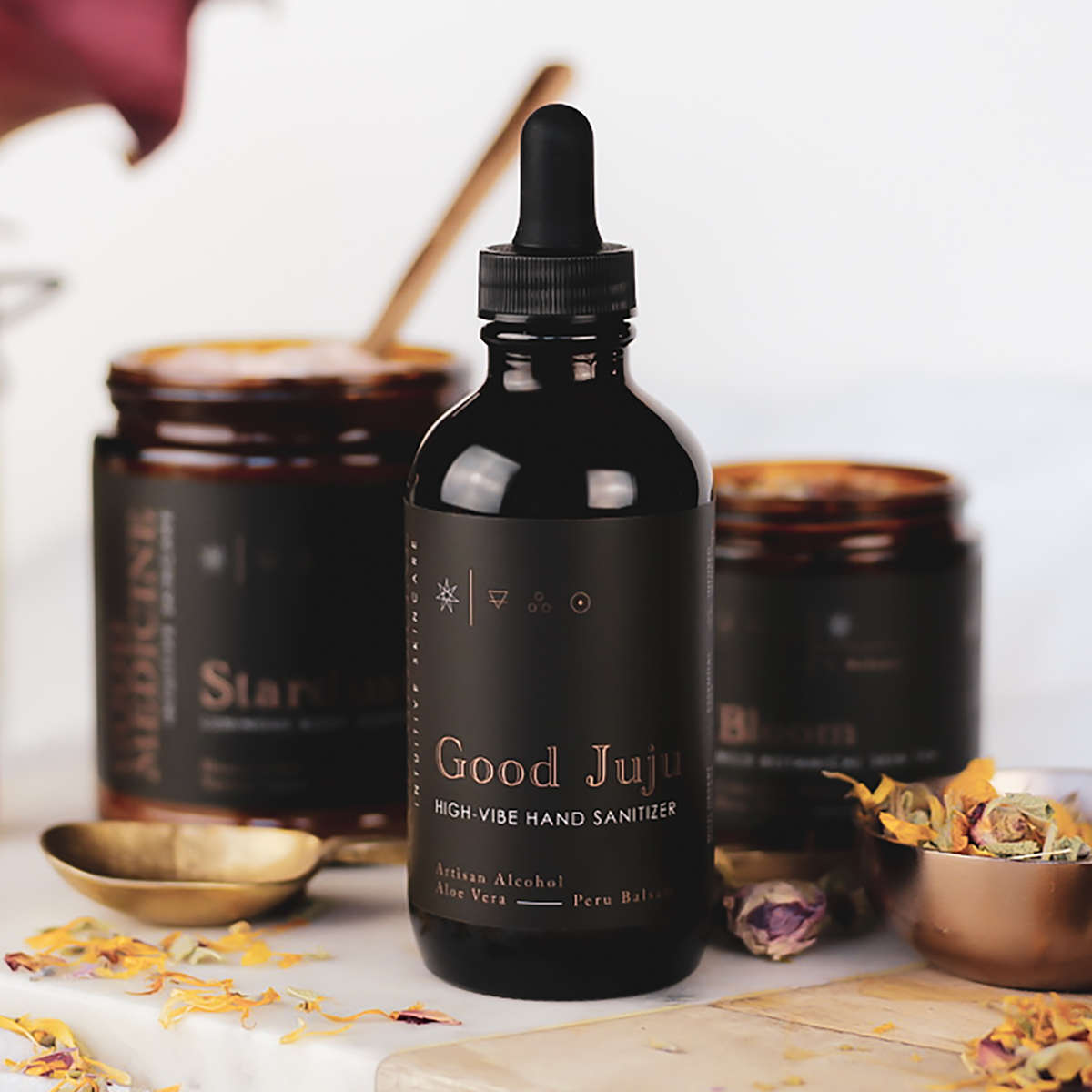 GOOD JUJU
HIGH-VIBE HAND SANITIZER

Good vibes are guaranteed with our limited-edition hand sanitizer. Karen was thinking about each of you when she created this one-of-a-kind hand sanitizer. Good Juju is formulated and designed to take hand sanitizer to the next level through, quality of our artisan ingredients, effectiveness, and incredible scent. She made sure to use all-natural, locally sourced ingredients that you can feel good about. Made with artisan alcohol and infused with aloe vera and vegetable glycerin, it will get your gorgeous hands clean without stripping them of precious moisture. Good Juju is infused with the highest quality essential oils and the scent is just heavenly. Indulge in aromas of lemon, bergamot, and bay (Karen's personal favorite).

With each use you will be transported by the spicy scent to a beautiful desert oasis. Bring it along anywhere and everywhere. So you will be able to spread love and stay well wherever you may venture.

4oz Amber Glass Bottle with Glass Pipette
$22 Value

Ingredients: Artisan alcohol, organic vegetable glycerin, organic aloe vera infused oil. Essential oils of lemon, bergamot, peru balsam, chamomile, bay, peppermint, and black pepper.