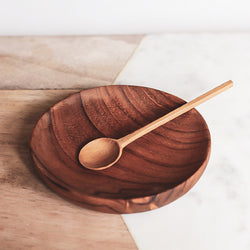 Good Medicine Beauty Lab
Teak Intuitive Blending Set

Inhale and connect. Traditionally used in ship building, teak is water and warp resistant. Nature makes the best stuff. Connect with nature while you use this beautiful set to blend your desert-harvested formulas to create perfectly custom blends. Your skincare ritual will be cleaner and prettier. Enjoy using nature's most beautiful and resilient wood while you work to care for your beautiful and resilient self.
Vessel Material: Teak wood
Vessel Size: 3.5" dia x .05" H
Teak Spoon Size: 3.5"

Care Instructions: Hand wash only with mild soap, dry thoroughly with soft cloth.
We are women who know what we want. When we set out to create a line of clean, luxury skincare formulas SIZE was a top priority. Because yes, size matters. We want our customers to feel pampered, unlimited, and connected to our products. This is why we create highly-concentrated formulas (a little goes a long way) but we don't stop there. We strive to surpass standard sizes you have become accustomed to.
We feel like beauty industry standard sizes just aren't good enough. Our full-size facial formulas are usually twice the standard size. Our Deluxe Minis last for 2-3 weeks rather than a single-use sample that you find at the beauty counters. So go ahead, there is plenty in each bottle to treat yourself like the goddess you are.
Teak Bowl
I have yet to try the bowl because I have been putting my ashes grains into my hand and mixing them that way. However, the little wooden spoon is nice. I'm a tad disappointed because other reviews said it was made of shell and I was really hoping that to be the case. There's nothing wrong with the product though and the picture showed a teak spoon so I'm giving it the five stars.
Super cute and Functional!
Cute blending set. Love the shell spoon!. Nice quality. Is a bit smaller than I imagined. However, I love I am not wasting product with this set. I no longer have product falling in the sink from trying to blend it in my hands or finger tips. Definitely, a great add to these beautiful and clean products.
Super Cute and Worth It!
Very nice quality teak bowl and shell spoon blending set. Smaller than I imagined, but I do love it! I feel like I get complete use of all the product using this set. Nothing wasted as I was using clean hands, but product would fall in the sink. Definitely, happy with it!