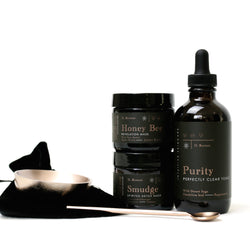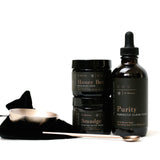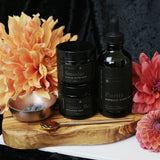 Good Medicine Beauty Lab
Bee Clear Masking Set

THIS SET INCLUDES THREE FULL SIZE PRODUCTS & A MIXING SET OF YOUR CHOICE:
SMUDGE SPIRITED DETOX MASK 2oz. 

HONEYBEE REVELATION MASK 2 oz.
PURITY PERFECTLY CLEAR TONER 4 oz.
MIXING SET OF CHOICE

Outside of this gorgeous bundle, these four products would cost $142!

SMUDGE SPIRITED DETOX MASK
ACTIVATED CHARCOAL, SPIRULINA, TOMATO
You've never seen anything like it. From the desert wilds comes an activated charcoal mask to detoxify, nourish, and transform your skin. Just add water to bring it to life. Now it's ready to release powerful nutrients into your skin. We added organic tomato powder to the list of earthy ingredients to deliver a healthy dose of vitamin C and A. How about a touch of the seaweed superfood, spirulina, to transform troubled skin into healthy, glowing skin? It won't dry or deplete your skin like other masks, instead it will leave it clean, renewed, and ready to take on the world.
PURITY PERFECTLY CLEAR TONIC
WILD DESERT HERBS, DANDELION & PEPPERMINT
A tonic as clean and pure as the wild desert plants we harvested to create it. Purity is formulated, with superhero ingredients including dandelion and peppermint, to quickly reduce inflammation and combat bacteria. A perfect combination of powerful botanicals gently and effectively rebalance excess oil and sebum production, reducing acne flareups. An abundance of ionized minerals, alkaline solutions and anti-fungal properties form a protective shield, promoting new cell production. Purity feels clean and light on the skin. Take a quiet moment and think to yourself; this is how my skin was meant to feel. 
HONEY BEE REVELATION MASK
WILD RAW HONEY, APPLE PECTIN & JUNIPER BERRIES
The bees have secrets. Harness the miracle of raw wild honey and reclaim that youthful glow. Age-defying essential oils, honey, aloe and other potent botanicals combine to create a hydraulic motion that quickly rebuilds moisture levels in the skin. Feel and see the difference after just one application. Our honey mask purifies and restores balance, stops bacterial growth, and acts as a mild alpha-hydroxyl acid to reveal a new layer of gorgeous skin. This vitamin and mineral-rich formula clears and evens out skin tone, smooths fine lines, firms, hydrates and softens delicate facial tissue restoring a healthy glow. The fountain of youth might be a myth, but this stuff is real.
ROSE GOLD & TEAK BLENDING SETS
You are the Beauty Chef. Good Medicine formulas are intended for blending. Create your perfect, personalized blend with ease and glamour with our Blending Sets. A little of this, a little of that... and blend. Your skincare rituals will be cleaner and prettier. You might as well be using glowing tools while you care for your glowing skin.
Material: Solid metal with rose gold finish
Vessel Size: 2.5" dia x 1"
Spoon Size: 3.5"
Vessel Material: Teak wood
Vessel Size: 3.5" dia x .05" H
Teak Spoon Size: 3.5"
Shell Spoon Size: 3"
We are women who know what we want. When we set out to create a line of clean, luxury skincare formulas SIZE was a top priority. Because yes, size matters. We want our customers to feel pampered, unlimited, and connected to our products. This is why we create highly-concentrated formulas (a little goes a long way) but we don't stop there. We strive to surpass standard sizes you have become accustomed to.
We feel like beauty industry standard sizes just aren't good enough. Our full-size facial formulas are usually twice the standard size. Our Deluxe Minis last for 2-3 weeks rather than a single-use sample that you find at the beauty counters. So go ahead, there is plenty in each bottle to treat yourself like the goddess you are.