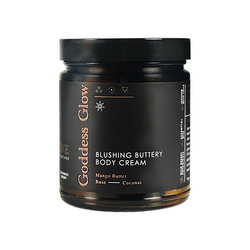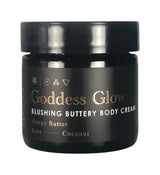 Mama Glow + Good Medicine
GODDESS GLOW / blushing buttery body cream

*New Enhanced Formula
The Light Of Love Surrounds Me
We invite you to find your glow, and share it with the world. Goddess Glow Blushing Buttery Body Cream penetrates deep into the layers of your skin, boosting hydration and delivering nourishing vitamins. A nutritive base of our wild desert infusion provides your skin with vital elements needed to heal, regenerate, and flourish. This gorgeous body cream boosts your skin's natural processes, enabling it to firm, improve elasticity, and create a radiant glow.
Abundant Application
After a warm bath or shower, while skin is still damp, place the cream in your palm. Rub your hands together and lightly pat over your skin – covering the body completely with a delicate protective coating. Feel the skin begin to warm and tingle like radiant sunlight dancing along its surface.
Enlivened Formula
SAFE FOR PREGNANT & NURSING MOTHERS
Aqueous infusion of desert sage**, juniper berry**, chaparral**, dandelion* & alfalfa*. Olive oil*, glyceryl sterate, cetearyl alcohol, sodium stearoyl lactylate, avocado oil, sweet almond oil, raw beeswax, sesame seed oil*, kukui nut oil, castor oil*, shea butter*, jojoba oil*, cocoa butter*, aloe vera butter*, coconut oil*, vitamin E T-50, mango butter*, aloe vera*, vegetable glycerin*, cetyl alcohol, caprylhydroxamic acid, caprylyl glycol,wild raw honey, sugar cane*, rice powder Non-GMO, wasabi extract, vitamin B3, CO2 calendula extract*. Pure essential oils and attars of rose, lime & coconut.
Wildcrafted** Organic*
Wild Desert Tincture
Treats acne or hormonal skin, boosts collagen, free radical defense, improves circulation, calms, brightens, reduces redness, soothes, detoxifies, supports healthy cells
Olive Oil
Maintains a healthy moisture level in the skin, antioxidant protection, restores smooth skin texture, prevents free radical damage
Wasabi Extract
Preservative, boosts skin defense, heals, promotes circulation
Dandelion Leaf
Detoxifies, fights free radicals, repairs cells, firms, brightens, protects
Alfalfa
Oxygenates, encourages collagen production, reduces inflammation, firms, brightens
Rice Powder
Conditions, supports cells, improves elasticity, heals
Coconut Oil
Protects healthy tissues, softens, moisturizes, protects, heals, repairs damaged skin
Aloe Vera
Heals, calms, soothes, softens
Sugar
Brightens, promotes cell turn over
Calendula
Heals, regenerates, soothes, reduces inflammation, restores moisture, protects thinning skin, brightens
Wild Desert Honey
Powerful humectant, fights free radicals, treats irritated skin, promotes healthy cell turn over, plumps, calms, rejuvenates, smoothes skin tone
Rosemary Extract
Moisturizes, supports collagen production, improves circulation, fights free radicals, heals
Vitamin B
Brightens, improves skin tone, maintains moisture levels, protects skin cells
Caprylhydroxamic Acid
Preservative. An amino acid (organic compounds that are essential building blocks of life) derived from coconut oil.
Naturally Gluten Free / No Animal Testing / Made In The USA
SAFE FOR PREGNANT & NURSING MOTHERS
We are women who know what we want. When we set out to create a line of clean, luxury skincare formulas SIZE was a top priority. Because yes, size matters. We want our customers to feel pampered, unlimited, and connected to our products. This is why we create highly-concentrated formulas (a little goes a long way) but we don't stop there. We strive to surpass standard sizes you have become accustomed to.
We feel like beauty industry standard sizes just aren't good enough. Our full-size facial formulas are usually twice the standard size. Our Deluxe Minis last for 2-3 weeks rather than a single-use sample that you find at the beauty counters. So go ahead, there is plenty in each bottle to treat yourself like the goddess you are.
Great Moisturizer
This lotion is the creamiest and smells the dreamiest!
Body lotion
This is my favorite lotion! I even use it on my face and absolutely love it
Love.
I always struggle with finding a body cream that doesn't leave my skin feeling oily or tacky after applying. This sinks in right away and has such a light lovely scent. This cream nailed it! This will be my go to body cream from now on!
Melts into skin
The smell of this is amazing. The formula is so creamy that it melts into the skin. I use lomi lomi oil first then lather this on afterwards. Saturates and moisturizes. This is not greasy at all and literally just sinks into the skin. I don't feel like I have gloved my whole body with lotion either.
Nourishing & luxurious
I was looking for a full body cream that didn't have a strong scent and that didn't feel oily. This was the perfect find. I wish it went a little further but I do cover my whole body with it and it leaves my skin feeling luxuriously soft. So great to know my self care can also involve nourishing my skin and no worries re harmful ingredients. The scent is subtle and I really appreciate that!