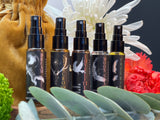 Good Medicine Beauty Lab
LUNA MINI PERFUME GIFT SET

Free Bird

This fragrance is meant for the wild spirit, the wanderer, and the independent thinker. Transform your energy into creation. Blonde tobacco and vanilla represent the sweet nature when freedom and creativity meet. Inhale the smoked leather scent of buddahwood and the heady notes of amber topped with jasmine flower. Unleash the fire of your untamed soul.
Mood: Expressive imagination
TOP NOTES: Rosewood
HEART NOTES: Buddahwood, Cinnamon, and Jasmine
BASE NOTES: Amber, Vanilla, Vetivert, and Blonde Tobacco
Perfume Base: Artisan Alcohol
STARCROSSED
The night rules the fate of the star-crossed lovers. Entangled in a web of obsession and pleasure, this fragrance fuses mystical notes of frankincense, amber and myrrh with a seductive layer of jasmine, tangerine and vetivert. The sparkle of balsam tolu finishes this fragrance – reminiscent of the mischievous night sky.
Mood: Luscious velvet
A unisex scent.
TOP NOTES: Sweet Orange, Tangerine, Jasmine, Gardenia
HEART NOTES: Frankincense, Amber, Myrrh, Clove, Juniper Berry, Cinnamon, Rose
BASE NOTES: Balsam Tolu, Vetivert
Perfume Base: Artisan Alcohol
DREAMCATCHER
A fragrance of the night's soul, Dream Catcher's warm embrace holds your wild intuition in harmony with your dreams. Designed for the wild ones, the dreamers, and the change-makers. Sultry notes of frankincense, amber, and myrrh dance on the skin, warming and mingling with your unique vibration, inspiring your inner magician.
Mood: mystical & confident
TOP NOTES: Amber
HEART NOTES: Myrrh
BASE NOTES: Frankincense
Perfume Base: Artisan alcohol
LOVE LETTER
Sometime ago, we fell in love with our dear friend Katie. She is the acclaimed author of book "Let It out" and a talented podcast host where she holds a space for creativity, positive energy, and authenticity.
Together, we created "Love Letter" – a sweet, lush, vibrant fragrance that combines the sensuous floral notes of magnolia with the warm, seductive aromas of coconut and vanilla.
TOP NOTES: Magnolia
HEART NOTES: Coconut
BASE NOTES: Vanilla
Perfume Base: Artisan Alcohol
MOON SHADOW
You are a mysterious creature, full of light and shadow; a shapeshifter, a seductress. Moon Shadow envelops you in velvety textures of rose and sandalwood. Notes of clove bud and cinnamon linger for a moment, adding a hint of spice.
Mood: flirty & seductive
TOP NOTES: Persian Rose
HEART NOTES: Sandalwood
BASE NOTES: Cinnamon & Clove Bud
Perfume Base: Artisan alcohol

The gift set comes ready to give in a beautiful golden, velvet bag.
We are women who know what we want. When we set out to create a line of clean, luxury skincare formulas SIZE was a top priority. Because yes, size matters. We want our customers to feel pampered, unlimited, and connected to our products. This is why we create highly-concentrated formulas (a little goes a long way) but we don't stop there. We strive to surpass standard sizes you have become accustomed to.
We feel like beauty industry standard sizes just aren't good enough. Our full-size facial formulas are usually twice the standard size. Our Deluxe Minis last for 2-3 weeks rather than a single-use sample that you find at the beauty counters. So go ahead, there is plenty in each bottle to treat yourself like the goddess you are.
Lovely scents
These smelled great! You get a lot of wears before deciding which one to commit to!
Luna Mini Perfume Set
Lovely and unique scents! A little goes a long ways. Great quality!
Unique and beautiful scents
Each of these perfumes is so wonderful I have a hard time deciding which one to wear. They are a great set!
I love it
I get it as a gift and I adore it. The best set ever. Non toxic, natural parfumes with amazing smell(btw it is specific you may not like it)
I love it
I get it as a gift and I adore it. The best set ever. Non toxic, natural parfumes with amazing smell(btw it is specific you may not like it)