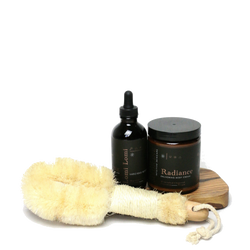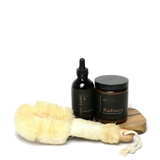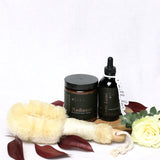 Good Medicine Beauty Lab
Sunrise Body Set

LOMI LOMI LUSCIOUS BODY OIL (4 0z.)
MAGNOLIA FLOWERS, COCONUT & KUKUI
This luscious massage/body oil whisks you away to tropical isles of pure bliss. Lomi Lomi is loaded with gifts of pleasure and health. It has the remarkable ability to moisturize your skin without making it greasy, leaving you glowing and fresh. This glorious blend of oils absorbs quickly and deeply into the skin and actually enhances its integrity – leaving it light, supple and soft all day long.
Lomi Lomi blends magnolia and coconut oils in a way that carries you instantly into a happy place. Antiviral and antibacterial properties protect your precious outer coat from environmental pollution. Prepare to fall into a state of sweet contentment and delight.
MIXOLOGY BEAUTY BLEND: Combine Lomi Lomi with Radiance Enlivening Body Cream for a luscious hydrating boost and a natural glow that lasts all day.
FEED YOUR SKIN
Hydrates & moisturizes
Protects & heals
Guards against environmental toxins
Fights infections
Aphrodisiac (love potion)

RADIANCE ENLIVENING BODY CREAM (9 Oz.)

WILDCRAFTED CHAPARRAL, CINNAMON & GINGER
Radiance penetrates deep into the layers of the skin, boosting hydration and delivering nourishing vitamins to your precious outer coat. Saturated in a nutritive base of our wild desert tincture, it provides your skin with vital elements needed to heal, regenerate and flourish. It is loaded with ionized minerals and natural alkaline solutions that have extraordinary antibiotic, antiviral and anti-fungal properties that preserve the health and beauty of the skin.
It soothes sore and tired muscles, firms and improves elasticity restoring a supple and soft skin tone. When applied with a gentle patting motion, it has a colloidal action that reduces waste fluids captured beneath the skin's surface. This remarkable body cream makes your skin come alive. It quickly smooths, firms and improves your skin elasticity creating a youthful, vibrant, radiant glow.
USE REGULARLY TO HELP
Increase cellular metabolism
Reduce inflammation
Relieve aches & pains
Improve blood circulation
Heal troubled skin
Firm & tone loose skin
NATURAL SISAL BODY BRUSH
TRADITIONAL JAPANESE STYLE BRUSH FOR FULL BODY EXFOLIATION
Indulge in the ancient wisdom and numerous health and beauty benefits of dry brush massage. For more details and how-to tips, check out our post about The Beautiful Benefits of Dry Brushing.
Dry brush dimensions: 10" W x 4" D x 2" H
Sisal bristles woven through a wire core.
Wooden handle wrapped in sisal rope.
Hang dry if it gets wet.
We are women who know what we want. When we set out to create a line of clean, luxury skincare formulas SIZE was a top priority. Because yes, size matters. We want our customers to feel pampered, unlimited, and connected to our products. This is why we create highly-concentrated formulas (a little goes a long way) but we don't stop there. We strive to surpass standard sizes you have become accustomed to.
We feel like beauty industry standard sizes just aren't good enough. Our full-size facial formulas are usually twice the standard size. Our Deluxe Minis last for 2-3 weeks rather than a single-use sample that you find at the beauty counters. So go ahead, there is plenty in each bottle to treat yourself like the goddess you are.
Uplifting
I was looking for something to brighten my day since having my baby, this set did it. The oil helped with dry areas on my stomach and stretch marks it also it really nice to use after shaving. My razor burns are far less!
Love this!
This was my first experience with dry brushing and it made such a difference in how my skin felt and how energized I was afterwards. The body cream and oil has a great smell and leaves your skin extra soft.