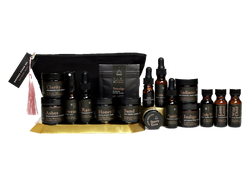 Good Medicine Beauty Lab
The Whole Shebang Set

Complete Good Medicine Skincare Collection
Yes, our mini sizes are huge. And we love that. We think you will too. Samples that give you one or two uses are a thing of the past. These Deluxe Minis are filled to the brim with luscious plant medicine that will bring you weeks of enjoyment. It's important to us that you really get to know each product and find what works best for you skin. 
YOUR SET COMES IN A BEAUTIFUL REUSABLE COSMETIC BAG WITH A COMPLETE SKINCARE BOOKLET
2 cleansers, 2 toners, 2 masks, 2 serums, face cream, eye cream, exfoliant, 3 body creams, 3 body oils, and hair oil.
How can you not get this set? :)
Release
RAIN Replenishing Oil Cleanser .5 oz
ASHES Reincarnation Cleansing Grains 1 oz
SAND Red Desert Mineral Polish 1 oz
Restore
BREEZE Revival Mist .5 oz
PURITY Perfectly Clear Tonic .5 oz
HONEY BEE Revelation Mask 1 oz
SMUDGE Spirited Detox Masque .5 oz
Receive
CLARITY Awakening Face Cream 1 oz
HONEY DEW Youth Serum .5 oz
STARRY EYES Brightening Eye Cream .25 oz
ELECTRIC SKY Universal Elixir .5ml
Body
LOMI LOMI Luscious Body Oil .5 oz
HOLY WILD Deep Forest Body Oil .5 oz
RADIANCE Enlivening Body Cream 1 oz
INDIGO Restoring Body Cream 1 oz
GODDESS GLOW Blushing Buttery Body Cream 1 oz (not pictured)
GLOW POTION Radiant Body Oil .5 oz (not pictured)
Hair
WILD CHILD Hair Rehab Oil .5 oz
We are women who know what we want. When we set out to create a line of clean, luxury skincare formulas SIZE was a top priority. Because yes, size matters. We want our customers to feel pampered, unlimited, and connected to our products. This is why we create highly-concentrated formulas (a little goes a long way) but we don't stop there. We strive to surpass standard sizes you have become accustomed to.
We feel like beauty industry standard sizes just aren't good enough. Our full-size facial formulas are usually twice the standard size. Our Deluxe Minis last for 2-3 weeks rather than a single-use sample that you find at the beauty counters. So go ahead, there is plenty in each bottle to treat yourself like the goddess you are.
Perfect size
An endless amount of choices make the skin ritual fun and healing.
Yes. Yes. Yes.
This is the best way to try it all. So far I have zero complaints, I am really enjoying trying all of the products and cannot wait to order them in full size! Treat yourself and buy this!
My favorite products!
I discovered so many great products from this kit! The jars come with enough product that you're to thoroughly test the product. The smells are an experience of their own! Lovely lovely products!
⭐️⭐️⭐️⭐️⭐️
I can not say enough about the Good Medicine skin care lines! I love all their products and have noticed a huge difference in the look and feel of my skin! Thank you for your wonderful products!
Best way to trial!
I'm loving this kit and the generous trial sizes will last me like a month. Also a great price to try everything. I've already ordered more and I'm just a week in with using the products. Everything smells nice and I love how natural it all is!