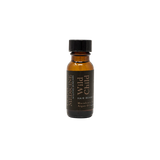 Good Medicine Beauty Lab
WILD CHILD Hair Rehab Oil

Macadamia Nut Oil, Argan Oil & Rosemary
Wild Child's protein-rich oils will quickly restore moisture, balance and strengthen your beautiful tresses. It nourishes each hair shaft, changing dull, lifeless hair to a brilliant sheen. An herbal infusion of rosemary and juniper berries helps detoxify the hair and stimulates the scalp, while vitamin-rich carrot seed oil provides a wealth of nutrients. It's the answer to restore luster and exuberance to a thirsty, overworked hair and scalp.
Safe (and wonderful!) for color treated hair.
Use Regularly To Help
Detox the hair
Stimulate the scalp
Hydrate & restore shine
Balance oil production
Add a power boost of vitamins
Heal dry, overworked scalp
Soothe & calm the scalp
Create elasticity in the hair
It's Good Medicine
All your fantasies of howling at the moon, pinning sunflowers in your hair and dancing through the midnight hours are about to come true. Being wild, free and full of love is every woman's perfect state of bliss. Let your worries go and your hair down – you are woman – let's hear you roar!
How To Indulge
While hair is still dry, add desired amount of Wild Child to ends and comb to distribute thoroughly. Massage these beautiful oils deep into the scalp to heal, stimulate and soothe. Wrap hair in a towel (warm from the dryer) and leave on for 20-30 minutes before shampooing. Can also be used as a detangler when applied to hair just before shampooing.
Enlivened Formula
Organic olive oil, avocado oil, sweet almond oil, kukui nut oil, organic jojoba oil, organic macadamia nut oil, organic walnut oil, organic hazelnut oil, organic sesame seed oil, organic castor oil,organic aloe vera oil, organic argan oil, neem oil, vitamin E T-50. Carrot seed EO, juniper berry EO, rosemary EO.
EO: Essential Oil
Olive Oil
A rich source of Vitamin E and fatty acids that are vital to the production of sebum, the skin's natural moisture barrier. Easily assimilated, thus an effective delivery agent. Will not dissolve the body's own natural oils.
Walnut Oil
Rich in Vitamin A, Vitamin E and fatty acids a good source of Omega-3 and Omega-6 fatty acids, as well as ALA (alpha linolenic acid). It has incredible moisturizing and regenerative properties.
Hazelnut Oil
Hazelnut is a good source for B1, B2 and B6 vitamins. Revives stressed hair and improves circulation to the scalp. Quick penetration, astringent, filters rays of sun, moisture retention properties. 90% fatty acid rich!
Macadamia Nut
A great source of calcium, B complex, phosphorus and iron and mono-saturated fat. Macadamia nut oil contains the highest amount of palmitoleic acid (an Omega 7 fatty acid) of any plant. Palmitoleic acid is plentiful in our skin when we are young, but decreases with aging. Smoothes frizzy hair restores luster and strength. Improves the health of the scalp.
Kukui Nut
Adds luster and shine to sun damaged hair, detangles and seals hair for maximum sheen. Rich in linoleic and linolenic fatty acids. Soothes a burned or irritated scalp. Relieves itching and flaking scalp.
Argan Oil
Very rich source of Vitamin E and Essential Fatty Acids. Argon has all the various forms of Vitamin E giving you a powerful antioxidant, combined with fatty acids that protect against damage.
Sweet Almond
Promotes healthy hair and follicle strength. Contains magnesium and calcium, vitamin E and D. Nourishes the scalp and cuticles. Promotes growth and thickens hair.
Jojoba
Conditions, moisturizes, cleans and softens. Encourages new hair growth and prevents brittle dull hair. Dissolves unwanted buildup on the scalp. Natural antibacterial qualities.
Neem Oil
A healthy scalp is important for hair growth. Contains vitamin E and essential fatty acids to condition and moisturize your hair and scalp. Has been know to relieve scalp issues such as psoriasis and dandruff promoting healthy hair growth.
Carrot Seed
Valued for its high UV protection, carrot seed oil reduces hair and scalp problems related to sun exposure while protecting from damaging UV rays. It stimulates cell growth and rejuvenates an unhealthy scalp and dull hair.
Avocado Oil
Promotes hair growth and smoothes frizzy hair. High in oleic acid, vitamin E, carotenoids, alpha-carotene, beta carotene and zeaxanthin. Delivers nutrients into scalp and hair shaft and is excellent for dry itchy scalp. Natural sunscreen properties protects hair from UVA and UVB rays.
Castor Oil
Nourishing to the scalp and relieves dandruff and hair fall out. Natural conditioning agents to leave your hair soft and shiny.
Rosemary & Juniper Berry Oils
Stimulates scalp and roots of hair. Natural antifungal, antibacterial properties cool the scalp and acts as an astringent. Controls overly greasy hair and dandruff. Promotes circulation and delivers nourishment to the scalp and hair.
We are women who know what we want. When we set out to create a line of clean, luxury skincare formulas SIZE was a top priority. Because yes, size matters. We want our customers to feel pampered, unlimited, and connected to our products. This is why we create highly-concentrated formulas (a little goes a long way) but we don't stop there. We strive to surpass standard sizes you have become accustomed to.
We feel like beauty industry standard sizes just aren't good enough. Our full-size facial formulas are usually twice the standard size. Our Deluxe Minis last for 2-3 weeks rather than a single-use sample that you find at the beauty counters. So go ahead, there is plenty in each bottle to treat yourself like the goddess you are.
Great for thinning hair with a sensitive scalp
I have sensitive skin (including my scalp) so a lot of commercial hair products are irritating. But as I hit my 60's my hair started thinning. I started using the Wild Child - just a dab rubbed into my scalp and then wrapped in a warm towel for 20-30 minutes before washing. It washed out easily, leaving my hair soft and not oily, but I have notice my hair IS stronger and thinning less. A healthy scalp is healthy hair and you don't need a lot of products with chemically derived ingredients to get that.
best hair oil
I've used a lot of different natural hair oils and this one is my favorite! Doesn't weigh my hair down and doesn't leave it feeling greasy.
Wild child
Love this hair oil - I have tried to use other hair oils before and haven't ever been hooked until this one. I feel like it actually works and it smells divine!!
Like water for your hair
I purchased the sample because I'm a sucker for good hair care products and since I swear by Good Medicine I had to give it a shot. I love it most for my SCALP as I do struggle with dryness and dandruff, and so far so good! My scalp feels super nourished and moisturized and uber soft. The smell is nice too, like a combination of plants and seeds.
Wild Child
I purchased a mini version of this a long time ago. I loved it then and was set on purchasing the bigger bottle. That time has come! I generously apply and massage this in my scalp and hair, leave on for a good 20 minutes and do my normal shampoo and conditioning. My hair has been so flaky and lack luster recently and this stuff has improved it so much. I naturally have oily hair and it didn't create any excessive oil for me. My hair looks fuller, shinier and feels overall healthier. I always look forward to this little treatment. It does exactly what it says it'll do. Thank you!