Good Medicine Beauty Lab
STARRY EYES Brightening Eye Cream
Carrot Seed, Algae Extract & CoQ10
The skin around your eyes is as delicate as a desert flower. Our unique formula warms and tingles as it quickly brightens, hydrates and awakens the eye area. Starry Eyes is packed with vitamins, minerals, humectants, and antioxidants to help repair the skin's natural defense system, boost collagen and protein production, and guard against environmental stress and free radicals. This intense therapy formula provides deep hydration, improved blood circulation, and increased cell reconstruction. Open your eyes to a brighter world.
FOR BEAUTY TIPS & SKINCARE RECIPES VISIT OUR SKIN MOOD GUIDE 
Each formula is a ritual unto itself and an opportunity to be playful and tap into your innate wisdom. There are no rules when it comes to creating your self-care rituals, only gentle suggestions to guide you on your path of discovery.

Your intuition is what makes Good Medicine truly unique. We understand every woman has different needs. Each Good Medicine product is formulated to be seamlessly fused with another. Combine our formulas to create entirely new products that serve entirely new purposes.

Our skincare collection is formulated with blending in mind. So when you purchase our products, you are actually getting much more than you bargained for.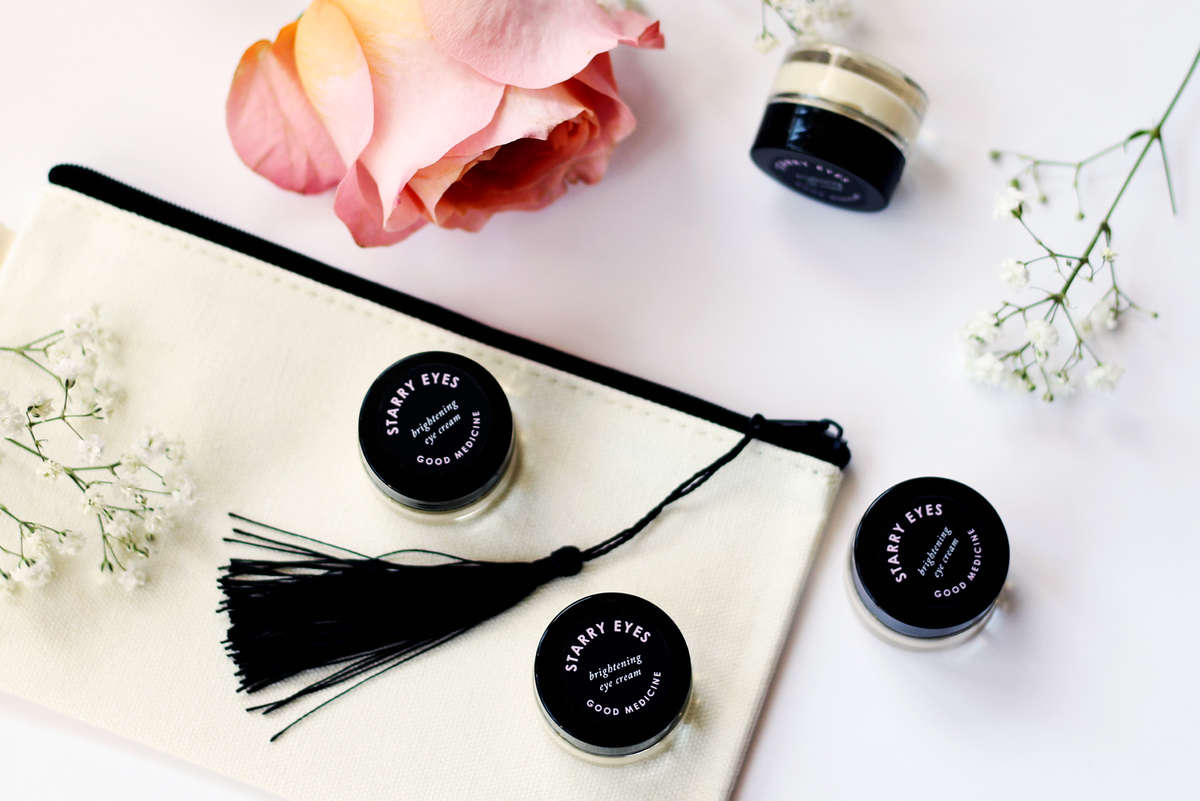 Sasha Finds: Eye Cream
Lainey Gossip
"How long have I been writing these columns? Almost a decade? AND have I ever written about an eye cream? The answer is NEVER.

I've been sent everything from the cream of the crop to drug store brands and nothing has ever truly knocked my socks off. Yes, they've been moisturizing. Yes, they've felt decadent. But I've never tested anything worthy enough to write about. Dudes, today is the day. I give you Starry Eyes by Good Medicine.

This celestial eye cream is the real deal and the ingredient list is some top level sh-t in my opinion – it's like Whole Foods exploded all over your face. This is really such a special little product, with each bottle made in small batches to ensure all of their ingredients are pure, fresh, and of the highest quality. There's organic olive oil to moisturize, wild-crafted desert infusion to boost collagen and circulation, CoQ10 to firm and smooth out fine lines and my favorite ingredient has to be the wasabi extract which boosts and promotes healthy cell turnover. All you need to do is dab a small amount around your eye socket and brow bone and let it do its magic. I also love that that this product has this amazing warming effect after application that quickly simmers down any puffiness on the spot. And don't be afraid to use this cream on other spots on your face – it also does the trick on your forehead and neck area."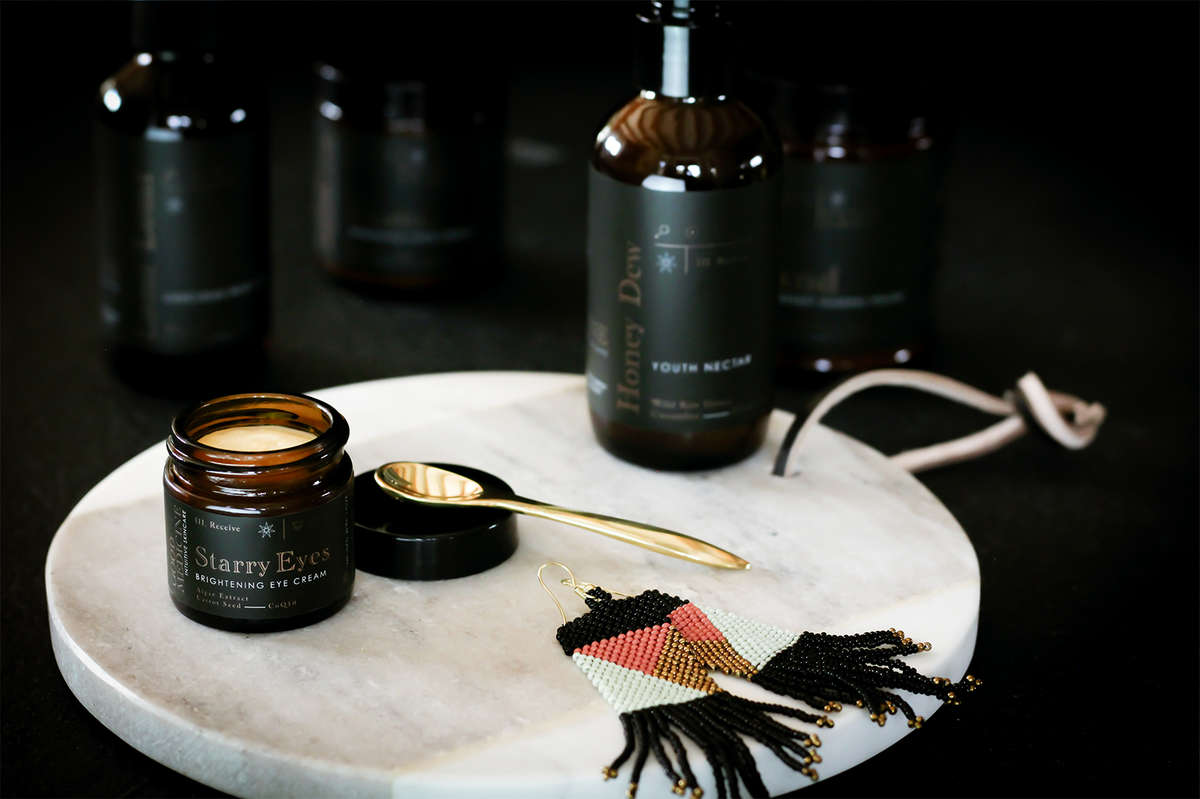 Keep your eyes on the stars and your feet on the ground.
Reduce dark circles & firm puffy eyes
Diminish fine lines & wrinkles
Increase collagen production & elasticity
Increase longterm tightening of the skin
Strengthen the skin's connective tissues
Boost the skin's natural regeneration process
Protect against environmental damage

Application Is Key
Begin by dabbing little dots around the eye socket where the eyebrow ends and finishing near your nose. Once you have a happy little train of skin loving dots, use two fingers to gently press them into the skin along the trail, following with a gentle tapping motion until the cream has married your skin.
Feel a slight warming of the area as the cream smoothes fine lines, hydrates, rejuvenates and firms puffy eyes. For immediate and lasting results, use it daily.
Enlivened Formula
Aqueous infusion of desert sage**, juniper berry**, chaparral**, dandelion*, alfalfa*. Olive oil*, glyceryl stearate, cetearyl alcohol, sodium stearoyl lactylate, cold pressed coconut oil*, aloe vera juice*, cetyl alcohol, vegetable glycerin*, caprylhydroxamic acid, caprylyl glycol, rice powder, wild raw honey, raw beeswax, avocado oil, sweet almond oil, sesame seed oil*, kukui nut oil*, castor oil*, jojoba oil*, shea butter*, cocoa butter*, aloe butter*, mango butter*, vitamin E T-50, coQ10, vitamin B3, tripeptide-29, acetyl hexapeptide-8, algae extract, pullulan, CO2 calendula extract*, wasabi extract. Rosemary EO, rosewood EO, carrot seed EO, geranium EO, rose attar, frankincense attar, amber attar, myrrh attar.


*organic **wildcrafted
EO: Essential Oil

No Animal Testing / Naturally Gluten FreeMade In The USA
It's Good Medicine
Essential Oil Blend
Antiseptic, calms, soothes, stimulates, supports cell turnover, reduces inflammation or red skin tone, hydrates dry skin, detoxifies, treats acne, reduces appearance of pores, purifies, promotes new cell growth, stimulates collagen, improves elasticity, firms


Olive Oil
Penetrates for deep moisture, protects moisture barrier, boosts collagen, firms, balances oil production, supports healthy cells, softens, reduces fine lines, diminishes pores, nourishes, free radical defense.


Wild Desert Infusion
Cell boosting immunity, strengthens skin integrity, antibacterial agents treat and protect skin from acne, healthy cell support, boosts collagen, treats dryness, improves circulation, brightens, protects from free radical damage, calms, reduces redness, soothes irritated skin, detoxifies, improves circulation, supports healthy cells


Dandelion Leaf
Detoxifies, diminishes free radical damage, treats acne, firms, brightens


Wasabi Extract
Boosts skin defense, heals, increases circulation, promotes healthy cell turnover


CoQ10
Boosts collagen, firms, supports cells, smoothes fine lines, reduces free radical damage, rejuvenates, strengthens, repairs


Marine Algae
Tightens skin tone, antioxidant protection, hydrates, strengthens skin defense, plumps, improves elasticity, supports collagen production, reduces appearance of fine lines


Calendula
Heals, regenerates, reduces inflammation, hydrates, maintains moisture barrier, smoothes fine lines, protects thinning skin, brightens


Wild Desert Honey
Powerful humectant, fights free radicals, treats and soothes irritated skin, promotes healthy cell turnover, plumps, calms, rejuvenates


Carrot Seed Oil
Fights free radicals, restores radiant skin, treats acne, purifies, improves health of damaged skin, detoxifies, stimulates circulation, promotes collagen production


Rosemary Extract
Promotes healthy moisture barrier, supports collagen production, improves circulation, fights free radicals, heals, treats acne or hormonal skin


Rosewood Oil
Cell regenerating, improves elasticity, stimulating, reduces the appearance of fine lines, moisturized dry or mature skin, evens skin tone, treats acne, calms eczema


Vitamin B
Brightens, supports healthy moisture barrier, protects healthy skin cells, improves circulation, calms stressed skin


Rice Powder
Skin conditioner, healthy cell support, improves elasticity, smoothes fine lines softens


Coconut Oil
Protect healthy skin, softens, penetrates for deep moisture, protects moisture loss, reduces appearance of pores, evens skin tone, treats acne, smoothes fine lines, repairs damaged skin


Aloe Vera
Heals, calms, treats acne, softens skin tone, soothes, balances


Sugar
Brightens skin, controls oil, promotes healthy cell turnover


Sweet Almond Oil
Hypoallergenic, penetrates deep, moisturizes, removes impurities and dead skin, soothes eczema and psoriasis, reduces and treats acne, diminishes appearance of dark circles, reduces appearance of fine lines, smoothes, softens, calms


Avocado Oil
Strengthens skin tone, boosts cell production, softens, reduces age spots, deep hydration, treats dry skin, heals sun damage, boosts collagen, improves elasticity, soothes


Kukui Nut Oil
Free radical protection, penetrates skin barrier for deep hydration, treats dry skin, balances oily skin, soothes, softens, promotes healthy skin cells, reduces appearance of fine lines, strengthens


Jojoba Oil
Prevents and treats compromised skin, treats acne, absorbs deep, softens, restores supple tone, treats dry skin, removes impurities and dead skin cells that clog pores, maintains healthy sebum balance


Sesame Oil
Soothes dry skin, slows aging process, prevents the appearance of fine lines, detoxifies, improves blood circulation, repairs damaged cells, absorbs deep


Caster Oil
Smoothes fine lines, treats dry skin, soothing to sun damaged or irritated skin, treats mild acne, controls over active oil production


Beeswax
Protects moisture barrier, soothes irritated skin, rehydrates dry rough skin, humectant, softens


Shea Butter
Deep moisturizer, circulation, strengthens, regenerates, supports and stimulates collagen, free radical defense, protects moisture barrier, restores suppleness, softens, reduces appearance of fine lines, restores healthy glow


Mango Butter
Softens, moisturizes, treats dry dehydrated skin, soothes eczema, reduces degeneration of healthy cells, improves flexibility and strength


Cocoa Butter
Fights free radicals, softens, plumps, revitalizes, calms, soothes sensitive skin, soothes eczema, softens, restores supple texture


Acetyl Hexapeptide
Reduces the appearance of fine lines and wrinkles, assists in fighting degeneration of skin, relaxes facial tension