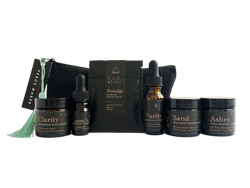 Good Medicine Beauty Lab
PEACEMAKER Clear Skin Set

Our balancing cleansers, gentle exfoliants, and acne-controlling tonics work together to deep clean your skin, reset your delicate pH balance, combat inflammation and remove pore-clogging dead skin and environmental toxins. Now that your skin is properly cleansed, it's ready to receive the benefits of our nutrient rich, calming face cream. Boost your new skincare routine with the transformative, healing effects of our honey and apple pectin mask to repair and refresh your skin – leaving it clear and bright.
THIS SET INCLUDES 6 DELUXE MINIS:
ASHES Reincarnation Cleansing Grains
SAND Red Desert Mineral Polish

PURITY Perfectly Clear Tonic
SMUDGE Spirited Detox Mask
ELECTRIC SKY Universal Elixir

CLARITY Awakening Face Cream
We are women who know what we want. When we set out to create a line of clean, luxury skincare formulas SIZE was a top priority. Because yes, size matters. We want our customers to feel pampered, unlimited, and connected to our products. This is why we create highly-concentrated formulas (a little goes a long way) but we don't stop there. We strive to surpass standard sizes you have become accustomed to.
We feel like beauty industry standard sizes just aren't good enough. Our full-size facial formulas are usually twice the standard size. Our Deluxe Minis last for 2-3 weeks rather than a single-use sample that you find at the beauty counters. So go ahead, there is plenty in each bottle to treat yourself like the goddess you are.
AMAZING
I got this kit and after the first use my skin felt amazing, I have been using this for a while now and still am in love with it. I have purchased a full size of the products in this kit. You will not be disappointed.
Great travel set
I purchased this set to try out multiple products. So far I'm really enjoying each product. Despite their small size, I have used them for almost two weeks and still have a lot left.
Try and decide
I tried before I bought fill sizes. This set is really a great way to try the products without spending money on larger sizes and know how you feel it on your skin. Especially it's perfect for traveling.
Peacemaker Clear Skin Set
I bought the Peacemaker Clear Skin Set from Good Medicine to try to see if it would help me with the bump that I get on my face from having acne. When I got finished using it and seen how my it really helped my face start clearing up from the acne I fell in love with the set. I have been using the set for a little while now and my face looks 100% better than what it used to look like before I tried the set. Since, I have been using it for some time now my face is almost completely free from having acne bumps and it feels some much better. There were several different brands and products that I tried before I bought the Peacemaker Clear Skin and none of them helped with everything that needed help to clear my face up, they would help one or two of the problems that I was dealing with that was causing me to have the acne but none of them helped fix everything.
Great starter
This was a great starter kit and they gave lots of recipes and different combinations to get the best use. Highly recommend. I have been struggling with adult/hormonal acne and this kit has helped nourish and heal my skin.