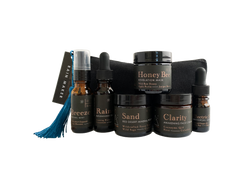 Good Medicine Beauty Lab
RAIN MAKER Hydration Set

The key to achieving balanced skin is to encourage and strengthen your skin's natural moisture barrier, using products that allow the skin to cleanse, balance, and renew without throwing it out of wack. You can make simple changes to your skincare routine that stop suppressing and interfering with these natural rhythms.
These carefully chosen products in our Rainmaker Hydration Set are rich in Omega 6 fatty acids, are non-drying cleansers and high-powered serums that rejuvenate, nourish and repair your moisture barrier, allowing your skin to come back to center. Now that you know your skin is smart, you can live together in perfect harmony.
SET INCLUDES 6 DELUXE MNIS
RAIN Replenishing Oil Cleanser
BREEZE Revival Mist
SAND Red Desert Mineral Polish
HONEY BEE Revelation Mask
ELECTRIC SKY Universal Elixir
CLARITY Awakening Face Cream
We are women who know what we want. When we set out to create a line of clean, luxury skincare formulas SIZE was a top priority. Because yes, size matters. We want our customers to feel pampered, unlimited, and connected to our products. This is why we create highly-concentrated formulas (a little goes a long way) but we don't stop there. We strive to surpass standard sizes you have become accustomed to.
We feel like beauty industry standard sizes just aren't good enough. Our full-size facial formulas are usually twice the standard size. Our Deluxe Minis last for 2-3 weeks rather than a single-use sample that you find at the beauty counters. So go ahead, there is plenty in each bottle to treat yourself like the goddess you are.
Rain maker
I love the rain maker set. I wish it came in a full size. I order this frequently because I run out of a few products around the same time. I love how it makes me dry skin feel smooth and hydrated. I like use the rain before bed and the ashes in the morning followed by clarity and during the day I use the breeze
Best starter kits for natural skincare!!!
I am so impressed with the sizes of these samples! Finally a skin care company that understands how much product you need to test out to get a feel for what your skin likes. Most companies samples are a 1 time application. This kit will get you enough product for a few weeks if not longer! And perfect for traveling!
My favorite skincare routine
I have extremely dry skin and this set is a miracle for me. My skin thanks me every day. :) It feels so soft and perfect. The sizes are also very convenient and they last for a long time. My favorite one is Clarity Awakening Face cream. Electric sky also works perfectly. The only problem is scent which is too heavy for me. Breeze, Sand and Honey bee are perfect as well. Highly recommended. :) Try and you won't regret.
Perfect Starter
I love that you can sample products and figure out what you need and what you like, and these sample sizes go a long way!!! They are also great for travel because they fit the size requirements for carryons.
Best ever
I've been using this set for just over a week and my skin is already noticeably better. I've been struggling with dry skin, I couldn't seem to figure out how to keep it hydrated. Well this set is it! My face is the softest it's ever been. I couldn't believe it! These products are incredible, they smell amazing and the quality is excellent.