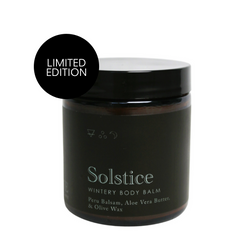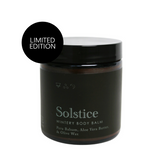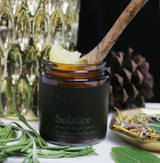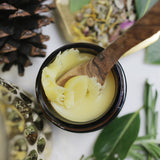 Good Medicine Beauty Lab
SOLSTICE Wintery Body Balm - Limited Edition

A Warm Winter Layer of Love
Winter can be harsh, care for your gorgeous skin with our luscious body balm. After a warm bath or shower, let wintery scents enliven your senses and envelop you in a layer of soothing moisture. Indulge in quiet moments of self care and reflection. Solstice welcomes the Winter and hails it as a time to renew and reset. Take time to rest and glow.

Ritual: Winter Foot Mask
Our feet do so much for us and we rarely give them attention. Anoint your feet with a moisturizing mask. Apply our SOLSTICE WINTERY BODY BALM to your feet after a shower or bath then slip on some sleep socks to lock in the moisture.
Abundant Application
This Body Balm can be used anywhere and everywhere. Simply place the desired amount in the palm of the hand and rub the hands together to warm and melt the butter. Apply liberally and delight in sexy, supple, glowing skin.
Enlivened Formula
Avocado oil, sweet almond oil, organic sesame seed oil, kukui nut oil, organic castor oil, organic jojoba oil, organic shea butter, organic cocoa butter, organic aloe vera butter, raw beeswax, olive oil, vitamin E T-50, Frankincense attar, amber attar, rose attar, peru balsam essential oil.
Naturally Gluten Free / No Animal Testing / Made In The USA
All sales are final on limited edition products.
We are women who know what we want. When we set out to create a line of clean, luxury skincare formulas SIZE was a top priority. Because yes, size matters. We want our customers to feel pampered, unlimited, and connected to our products. This is why we create highly-concentrated formulas (a little goes a long way) but we don't stop there. We strive to surpass standard sizes you have become accustomed to.
We feel like beauty industry standard sizes just aren't good enough. Our full-size facial formulas are usually twice the standard size. Our Deluxe Minis last for 2-3 weeks rather than a single-use sample that you find at the beauty counters. So go ahead, there is plenty in each bottle to treat yourself like the goddess you are.
A little goes a long way
I bought this on a whim and also the fact that it is really dry where I live. I used this balm right away and my skin soaked it up. I like it so much I bought a second one before they possibly run out :). The scent is wonderful and relaxing. Right before bed I apply some around my neck and decolletage, wonderful scent to fall asleep with.
Worth it!
This balm is my new go-to for dry skin. It is a bit greasy so I use mostly at night but it leaves my skin so soft and fully moisturized. It has a really great smell as well.
makes your skin so soft!
This balm is so wonderful for my dry winter skin. It doesn't leave a greasy residue and soaks into my skin and leaves it super soft. This will definitely be my winter go to skin care from now on! It also smells really good too. I love all of the Good Medicine products that I use and my skin has never been better.
Love, love, love!
Recently I had finished using my everywhere balm that I had purchased. Decided to risk it and splurge on the solstice wintery balm. So glad I did! I absolutely love the scent! It's like being wrapped in a blanket on a cold winters day. It's heavenly. In fact I believe I like this much more than the original balm. Wish they could make this year round. I have super dry itchy skin in Ohio winter. And this works like magic. I'm instantly not itchy and it absorbs so well.