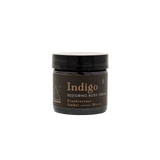 Good Medicine Beauty Lab
INDIGO Restoring Body Cream

Frankincense, Amber & Myrrh
Indigo penetrates deep into the layers of the skin, boosting hydration and delivering nourishing vitamins to your precious outer coat. Saturated in a nutritive base of our wild desert tincture, it provides your skin with vital elements needed to heal, regenerate and flourish. It is loaded with ionized minerals and natural alkaline solutions that have extraordinary antibiotic, antiviral and anti-fungal properties that preserve the health and beauty of the skin.
This blend of essential oils is designed to preserve, tighten and soften the skin. Frankincense has been used for centuries to reverse the signs of aging as well as diminish stretch marks and scars. It quickly rejuvenates your skin and rebuilds its natural resiliency. The sensual aromas lift the spirit and calm a nervous mind, bringing deep relaxation.
Use Regularly To Help
Promote new cells
Protect healthy tissues
Tighten & tone
Rejuvenate the skin
Soften the signs of aging
Diminish stretch marks & scarring
It's Good Medicine
Wrapped in a sea of indigo, Indigo body cream calms the mind and encourages deep relaxation and insight. The color indigo is our link to the universal unconsciousness and entrusts us with clear sight, intuition and integrity. Indigo is packed full of chaparral which has been known for centuries as "nature's drugstore" and has been used by native peoples to ease the pain of congestion and combat disease. Chaparral contains vast amounts of purifying agents that quickly reduce toxic waste and antioxidants to protect your precious skin from environmental damage.
How To Indulge
After a warm bath or shower, while skin is still damp, place the cream in your palm. Rub your hands together and lightly pat over your skin – covering the body completely with a delicate protective coating. Breathe deeply allowing the aromas to lift the body and soul.
Enlivened Formula
Aqueous infusion of desert sage**, juniper berry** chaparral**, dandelion*, alfalfa*. Olive oil*, aloe vera juice*, glyceryl stearate, cetearyl alcohol, sodium stearoyl lactylate, cetyl alcohol, rice powder (non-GMO), sugar cane*, vegetable glycerin*, cold pressed coconut oil*, CO2 calendula extract*, wild raw honey, wasabi extract, vitamin E T-50, vitamin B3, caprylhydroxamic acid, caprylyl glycol. Frankincense attar, amber attar, myrrh attar.
Wildcrafted** Organic*
EO: Essential Oil
Essential Oil Blend
Antiseptic, calms, soothes, stimulates, supports cell turnover, reduces inflammation or irritated skin, hydrates dry skin, detoxifies, purifies, promotes new cell growth, stimulates collagen, improves elasticity, firms
Wild Desert Tincture
Treats acne or hormonal skin, boosts collagen, free radical defense, improves circulation, calms, brightens, reduces redness, soothes, detoxifies, supports healthy cells
Olive Oil
Maintains a healthy moisture level in the skin, antioxidant protection, restores smooth skin texture, prevents free radical damage
Wasabi Extract
Preservative, boosts skin defense, heals, promotes circulation
Dandelion Leaf
Detoxifies, fights free radicals, repairs cells, firms, brightens, protects
Alfalfa
Oxygenates, encourages collagen production, reduces inflammation, firms, brightens
Rice Powder
Conditions, supports cells, improves elasticity, heals
Coconut Oil
Protects healthy tissues, softens, moisturizes, protects, heals, repairs damaged skin
Aloe Vera
Heals, calms, soothes, softens
Sugar
Brightens, promotes cell turn over
Calendula
Heals, regenerates, soothes, reduces inflammation, restores moisture, protects thinning skin, brightens
Wild Desert Honey
Powerful humectant, fights free radicals, treats irritated skin, promotes healthy cell turn over, plumps, calms, rejuvenates, smoothes skin tone
Rosemary Extract
Moisturizes, supports collagen production, improves circulation, fights free radicals, heals
Vitamin B
Brightens, improves skin tone, maintains moisture levels, protects skin cells
Caprylhydroxamic Acid
Preservative. An amino acid (organic compounds that are essential building blocks of life) derived from coconut oil.
Naturally Gluten Free / No Animal Testing / Made In The USA
We are women who know what we want. When we set out to create a line of clean, luxury skincare formulas SIZE was a top priority. Because yes, size matters. We want our customers to feel pampered, unlimited, and connected to our products. This is why we create highly-concentrated formulas (a little goes a long way) but we don't stop there. We strive to surpass standard sizes you have become accustomed to.
We feel like beauty industry standard sizes just aren't good enough. Our full-size facial formulas are usually twice the standard size. Our Deluxe Minis last for 2-3 weeks rather than a single-use sample that you find at the beauty counters. So go ahead, there is plenty in each bottle to treat yourself like the goddess you are.
Indigo Body Cream
Oh my goodness I never expected to love this as much as I do. It's amazing, not greasy feeling and smells amazing in my opinion! Absolutely LOVE IT!
great product!!!
This is a wonderful moisturizer. Effective but not too heavy and it smells wonderful!
Luxurious
So rich and moisturizing. And the scent is very exotic.
Best Lotion
I've been looking for a natural body lotion that smells good without making my skin react and this is it!! Finally!
indigo
I am almost certain this will heal my dry cracked skin because of the frankincense and myrrh. It smells incredible.