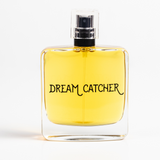 Good Medicine Beauty Lab
DREAM CATCHER / botanical perfume

An Adventure in Manifestation
A fragrance of the night's soul, Dream Catcher's warm embrace holds your wild intuition in harmony with your dreams. Designed for the wild ones, the dreamers, and the change-makers. Sultry notes of frankincense, amber, and myrrh dance on the skin, warming and mingling with your unique vibration, inspiring your inner magician.
Mood: mystical & confident
TOP NOTES: Amber
HEART NOTES: Myrrh
BASE NOTES: Frankincense
Spritzer Base: Artisan alcohol
Roll-on Base: Sweet almond oil
We are women who know what we want. When we set out to create a line of clean, luxury skincare formulas SIZE was a top priority. Because yes, size matters. We want our customers to feel pampered, unlimited, and connected to our products. This is why we create highly-concentrated formulas (a little goes a long way) but we don't stop there. We strive to surpass standard sizes you have become accustomed to.
We feel like beauty industry standard sizes just aren't good enough. Our full-size facial formulas are usually twice the standard size. Our Deluxe Minis last for 2-3 weeks rather than a single-use sample that you find at the beauty counters. So go ahead, there is plenty in each bottle to treat yourself like the goddess you are.
Very powerful little mini spray!
Wow I just received this bottle of mini spray yesterday and only sprayed on a very light mist on one wrist to try it out. I couldn't believe how long lasting that little spritz stayed with me even after washing my hands and I could still smell it today! This is just another wonderful product from Good Medicine!
my favorite!
This is my favorite, I love how it smells on me!!!
Intoxicating
Dream Catcher has become my signature scent, second only to Acqua di Parma Profumo. Dream Catcher is mesmerizing, sultry and dangerously intoxicating!! I bought the 1.7 ounce bottle, wish you made it in 3.4 ounce size!! I am picky; this one got in there. Everything you create is fabulous, but I adore this perfume and I just have to say thank you!!
Absolutely love this scent!
I get so many compliments. It's a lovely scent, not too strong. Don't ever get rid of this scent. It's my go to perfume. Love that it lasts all day
Parfume
I get it as a gift, the smell isk good , but for me it is a little bit more scenty. And 1 spritz is enough. The scent has a nice finish as well.