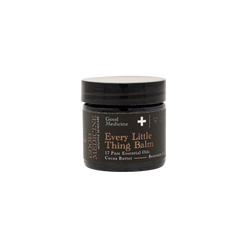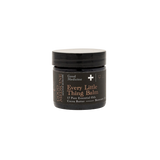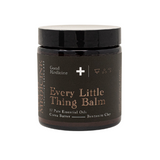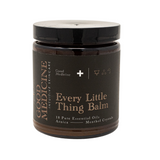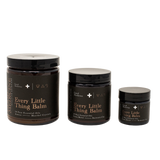 Good Medicine Beauty Lab
EVERY LITTLE THING BALM

HEALING + EARTH MAGIC
The desert holds many healing secrets. We've lovingly extracted many of them to create this dynamic, healing balm. Use it anywhere, any time to heal dry, cracked skin, and restore moisture. It works miracles when it comes to relieving painful, dry patches. Apply as needed to transform and heal your precious skin. Allow the intense healing ingredients including, lavender, tea tree, and juniper berry, to penetrate and repair your skin.
WORK DEEPLY INTO AREAS IN NEED
Dry, cracked skin
Inflammed areas
Painful red areas
Rough patches
Chapped lips & Skin
HOW TO INDULGE
Apply a small amount to affected or sore areas and massage into skin. Avoid contact with eyes, mouth, and sensitive areas. Make sure to thoroughly wash hands after application. If sensitive to products, apply a small amount to a test area before using on a larger area.
Enlivened Formula
Wild desert clay, avocado oil, sweet almond oil, sesame seed oil, kukui nut oil, castor oil*, wheat germ oil, shea butter* mango butter*, jojoba oil*, cocoa butter*, avocado butter*, olive oil*, coconut oil*, raw beeswax, vitamin E T-50. Hand-selected essential oils of peppermint, camphor, lavender, tea tree, lemon, ginger, juniper berry, rosemary, cinnamon, wintergreen, eucalyptus, black pepper, clove bud, birch, arnica, galbanum.
Organic* Wildcrafted**
We are women who know what we want. When we set out to create a line of clean, luxury skincare formulas SIZE was a top priority. Because yes, size matters. We want our customers to feel pampered, unlimited, and connected to our products. This is why we create highly-concentrated formulas (a little goes a long way) but we don't stop there. We strive to surpass standard sizes you have become accustomed to.
We feel like beauty industry standard sizes just aren't good enough. Our full-size facial formulas are usually twice the standard size. Our Deluxe Minis last for 2-3 weeks rather than a single-use sample that you find at the beauty counters. So go ahead, there is plenty in each bottle to treat yourself like the goddess you are.
Impressive
I have sun damage on one of my shoulders and it has been very hard for me to heal the area. I have only used this balm a few times and I am already seeing improvement. Considering the number of years and all the salves I've tried, I'm really impressed with how well this product is working.
Truly an Everything Balm
I have used this on sunburns, rashes, scraps, and cuts before a bandaid, my face after waxing, my underarms/bikini area after shaving. It literally can be used all over. It is a balm for everyday life and always something I pack when I leave the house!
Cure-all, help-all
Everyone has something they can use this for. Practically a necessity in our home already. Everyone loves it!
every little thing miracle
I can already see a difference in the texture of my hands after just one use. Melts into your skin like magic. I feel like it is reversing my skins age!!
Amazing
This balm is great for flair-ups. I use it on pimples, irritated skin, sores and dry skin. Works almost instantly. Like magic!