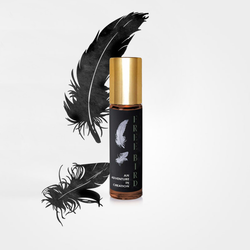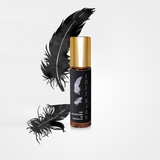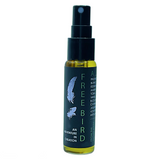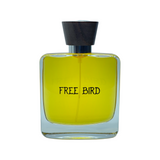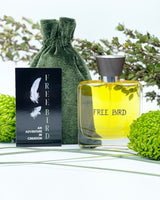 Good Medicine Beauty Lab
Free Bird / Botanical Perfume

An Adventure in Creation
This fragrance is meant for the wild spirit, the wanderer, and the independent thinker. Transform your energy into creation. Blonde tobacco and vanilla represent the sweet nature when freedom and creativity meet. Inhale the smoked leather scent of buddahwood and the heady notes of amber topped with jasmine flower. Unleash the fire of your untamed soul.
Mood: Expressive imagination
TOP NOTES: Rosewood
HEART NOTES: Buddahwood, Cinnamon, and Jasmine
BASE NOTES: Amber, Vanilla, Vetivert, and Blonde Tobacco
Spritzer Base: Artisan alcohol
Roll-on Base: Sweet almond oil
We are women who know what we want. When we set out to create a line of clean, luxury skincare formulas SIZE was a top priority. Because yes, size matters. We want our customers to feel pampered, unlimited, and connected to our products. This is why we create highly-concentrated formulas (a little goes a long way) but we don't stop there. We strive to surpass standard sizes you have become accustomed to.
We feel like beauty industry standard sizes just aren't good enough. Our full-size facial formulas are usually twice the standard size. Our Deluxe Minis last for 2-3 weeks rather than a single-use sample that you find at the beauty counters. So go ahead, there is plenty in each bottle to treat yourself like the goddess you are.
Smells Delicious!
I purchased the small spray using my freebie code they gave me. As soon as I received the package I opened it and sprayed one spray on my arm and WOW! It is a warm vanilla amber scent with the lovely slightly earthy aroma of the blonde tobacco. My husband says it makes me smell like a warm vanilla cupcake so he likes it too! As for the staying power, the scent lasted and I did not have to reapply once during the day. I have tried many natural perfumes made from essential oils and they didn't even come close to this. Highly recommend! also, no headaches!
Love almost as much as Dreamcatcher
The name of the perfume was enough for me to try this. Love it! I can't even describe the scent besides I love it. It's not overpowering which many perfumes are to me. But not good medicine's scents. It has a slight manly scent. Which i prefer over extremely sweet scents.