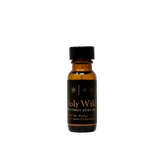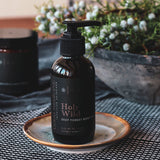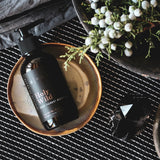 Good Medicine Beauty Lab
HOLY WILD Deep Forest Body Oil

Lily Of The Valley, Juniper & Cedarwood
Step into a lush forest, teeming with life. This gorgeous body oil transports you to an emerald dream. Lily of the valley, fresh juniper berries, and cedarwood invigorate and rejuvenate the body and mind while luscious oils of avocado, kukui, and olive hydrate and nourish your skin, leaving you glowing and fresh.
This is the Holy Wild – the sacred dance of all that is. Listen as whispering trees share the secrets of the forest.
Use It Regularly
Hydrates & moisturizes
Protects & heals
Guards against environmental toxins
Fights infections
Self-love Ritual
After a warm bath or shower, while the skin is still damp, apply a generous amount of Holy Wild to the entire body. Breathe softly into the deep, earthy aromas of sweet grasses and wild lilies, vibrant juniper, fresh fir trees and cedarwood. Surrender the mind, body and soul and enter a tranquil green forest.
Enlivened Ingredients
Avocado oil, kukui nut oil, organic olive oil, vitamin E T-50. Juniper berry EO, lily of the valley attar, cedarwood EO, fir EO, geranium EO, vetiver EO.
We are women who know what we want. When we set out to create a line of clean, luxury skincare formulas SIZE was a top priority. Because yes, size matters. We want our customers to feel pampered, unlimited, and connected to our products. This is why we create highly-concentrated formulas (a little goes a long way) but we don't stop there. We strive to surpass standard sizes you have become accustomed to.
We feel like beauty industry standard sizes just aren't good enough. Our full-size facial formulas are usually twice the standard size. Our Deluxe Minis last for 2-3 weeks rather than a single-use sample that you find at the beauty counters. So go ahead, there is plenty in each bottle to treat yourself like the goddess you are.
Obsessed
I was not sure that I was going to like this one. I absolutely LOVE lomi lomi, so I figured I'd give it a try! Well, I ended up loving this one too! It's such a beautiful scent. I definitely will be buying more. Thank you
In my top #2 favorite body oil scents!!
I am one of those people who religiously wears the same fragrance/oil combinations forever and ever. It's so rare that I find a body oil that hydrates my skin without making me greasy all day, AND one that also smells amazing. This woodsy beachy scent is out of this world. I honestly think this scent is "gender neutral," which I love! Their Lomi oil smells great too!!! Holy wind is my absolute personal favorite of the two though :) but that's why their mini products are so handy; try them all and see which works for you!!
My favorite smell ever!
I tried the sample size of this and omg, I've haven't smelled many products better than this! Wishing there was also a perfume in this scent! It leaves my skin so smooth. Love love!
Blown away
This smells divine. I use it right after a shower and it leaves my skin so soft and smooth. I wish there was a roll on perfume that I could use with it throughout the day. I will definitely repurchase!!
Love this oil
I'm in love with this oil! I live in a very dry mountain town and my skin loves this in the winter. Doesn't make you 'feel greasy' either! Smells great too