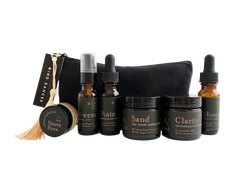 Good Medicine Beauty Lab
WIND DANCER Wisdom Set

When we are babes of 25, we can see changes in our skin's surface. Tiny lines begin to appear as our skin becomes thinner. Although we can't stop the passing of time, we can care for our skin, make conscious choices and soften the process.
Our skin can prematurely age for a variety of reasons, many of which are preventable with a consistent skincare routine, healthy habits, proper sun exposure, nutrition and hydration. Repairing the moisture barrier is key when attending to damaged and aging skin. We have hand-selected our favorite gentle giants to effectively cleanse, exfoliate, protect and hydrate your delicate skin. These enlivened formulas will make a dramatic difference in the appearance of your lovely skin.
SET INCLUDES 6 DELUXE MINIS
RAIN Replenishing Oil Cleanser


SAND Red Desert Mineral Polish

BREEZE Revival Mist

HONEY DEW Youth Nectar

CLARITY Awakening Face Cream


STARRY EYES Brightening Eye Cream
We are women who know what we want. When we set out to create a line of clean, luxury skincare formulas SIZE was a top priority. Because yes, size matters. We want our customers to feel pampered, unlimited, and connected to our products. This is why we create highly-concentrated formulas (a little goes a long way) but we don't stop there. We strive to surpass standard sizes you have become accustomed to.
We feel like beauty industry standard sizes just aren't good enough. Our full-size facial formulas are usually twice the standard size. Our Deluxe Minis last for 2-3 weeks rather than a single-use sample that you find at the beauty counters. So go ahead, there is plenty in each bottle to treat yourself like the goddess you are.
Fittingly Named
This set is like having a Spa in your home my skin just drinks up Honey Dew Youth Nectar, love how hydrating the Breeze Revival Mist is as needed.
Wind dancer set
I highly recommend getting this set of 6 to know what products you love. I am obsess with the awakening face cream and the starry eyes it is so good.
This set has been a monthly purchase for me from my spa for several months. When their supply ran low I began to purchase directly. I was very dissapointed this past month with my purchase. The set has been modified and is missing 3 samples. If I had been made aware ahead of time I would have updated my cart. I now feel jipped because I spent the same amount of money for less product.
Love! Love! Love!
My skin has never felt better! I have been looking for an eye cream that actually works and this stuff does!
The polish and serums are a perfect blend for my skin ana I feel like I'm glowing every day.
Great line of products for mature skin
This is the line of products that my estitician started me on and I now use all of the products in this kit depending on what my skin needs. The sizes are great because they last long enough for you to see the results