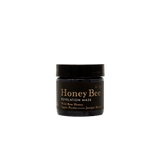 Good Medicine Beauty Lab
HONEY BEE Revelation Mask

Wild Raw Honey, Apple Pectin & Juniper Berries
The bees have secrets. Harness the miracle of raw wild honey and reclaim that youthful glow. Age-defying essential oils, honey, aloe and other potent botanicals combine to create a hydraulic motion that quickly rebuilds moisture levels in the skin. Feel and see the difference after just one application. Our honey mask purifies and restores balance, stops bacterial growth, and acts as a mild alpha-hydroxyl acid to reveal a new layer of gorgeous skin. This vitamin and mineral-rich formula clears and evens out skin tone, smooths fine lines, firms, hydrates and softens delicate facial tissue restoring a healthy glow. The fountain of youth might be a myth, but this stuff is real.
INTUITIVE BLEND: For sunburned, acne prone, dry or irritated skin, create a healing mask with Honey Bee and Ashes Reincarnation Cleansing Grains.
Use Regularly To Help
Clear & brighten the skin
Deep hydration
Halt bacteria growth
Reveal fresh, new cells
Firm & even out skin tone
Reduce inflammation
Smooth skin tone
It's Good Medicine
Dancing wild and free, desert honey bees create the most beautiful, golden nectar for your skin. Softly blended with the gifts of ripe apple pectin, aloe vera and apple cider vinegar, your skin drinks in this bright nourishment to heal, revitalize and glow.
How To Indulge
Apply lightly with finger tips or brush. Let sit on the facial skin up to 20 minutes. Rinse with warm water until the honey is removed. Use 2-3 times per week to improve the skin's supple texture, reducing the effects of daily wear and tear.
*Due to the nature of honey, it is normal if your Honey Bee develops crystals. Lightly heat your mask in the microwave in 10 second intervals or double boil until crystals have melted.
Enlivened Ingredients
Wild raw honey, apple pectin. Aqueous infusion of desert sage**, juniper berry**, chaparral**, dandelion*, alfalfa*. Aloe vera juice*, vegetable glycerin*, caprylhydroxamic acid, caprylyl glycol, citric acid (sugar derived), apple cider vinegar*. Frankincense attar, amber attar, myrrh attar.
*organic **wildcrafted
EO: Essential Oil
Wild Honey
Powerful humectant, fights free radicals, treats irritated skin, promotes healthy cell turnover, plumps, calms, rejuvenates, smoothes
Apple Pectin
Protects skin's natural barrier, improves elasticity, supports new cells, reduces fine lines, moisturizes
Aloe Vera
Heals, calms, soothes, softens
Frankincense
Antiseptic properties, calms, soothes, supports healthy cells, reduces inflammation or red blotchy skin tone
Myrrh
Soothes dry skin, cleansing, brightens
Amber
Purified, promotes new cell growth, improves elasticity, treats acne
Naturally Gluten Free / No Animal Testing / Made In The USA
We are women who know what we want. When we set out to create a line of clean, luxury skincare formulas SIZE was a top priority. Because yes, size matters. We want our customers to feel pampered, unlimited, and connected to our products. This is why we create highly-concentrated formulas (a little goes a long way) but we don't stop there. We strive to surpass standard sizes you have become accustomed to.
We feel like beauty industry standard sizes just aren't good enough. Our full-size facial formulas are usually twice the standard size. Our Deluxe Minis last for 2-3 weeks rather than a single-use sample that you find at the beauty counters. So go ahead, there is plenty in each bottle to treat yourself like the goddess you are.
First time user
I just tried for the first time and very pleased with how well it worked. My skin already has a glow from this one product.
Bee 🐝 fabulous
I love honey 🍯 bee 🐝 mask
Mask my face feel youthful and I feel better caring for my skin with honey bee mask clean healthy products
Rejuvenates!
When the skin on my face feels a little dehydrated and tired, I love using this mask to refresh. My skin allows glows after using it.
Love this!!
The honey mask is so soothing. It makes my face so soft I just love using it! It smells good too!!
Weekly Routine
I've been using the honey mask weekly for about two years now. Works very well with my daily routine of other Good Medicine products. Definitely use it when I can feel a breakout brewing on my 30 something skin. Takes care of that extra fast!