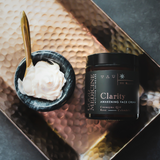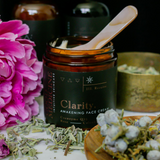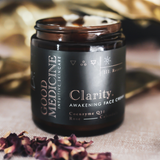 Good Medicine Beauty Lab
CLARITY Awakening Face Cream

Calming, Cooling, and Clarifying
Upon contact, Clarity calms, cools and clarifies the skin. This potent face cream delivers vitamins, minerals, and free-radical fighting antioxidants right where they are needed most! Clarity's concentrated botanicals penetrate deep into the skin, restoring the skin's natural moisture barrier bringing a rosy glow to the surface. It reveals a bright, soft, enlivened complexion with a gorgeous matte finish. Antioxidants, anti-inflammatories and phytonutrients soothe, moisturize, and protect delicate facial tissue. May it bring your skin to bloom like a wild desert rose.
Use it regularly to:
Firm and tone
Brighten the complexion
Protect from environmental damage
Reduce inflammation
Calm red areas and heal acne
Reduce skin discoloration & pigmentation
Protect against microbial infections
Combat bacteria
Boost collagen
It's Good Medicine
Clarity calms and cools the skin, giving it a deep breathe. The essential oil essence in Clarity moves us through the shadows within, lighting the heart with resolution, tranquility and inner strength. It gives us the strength to meet the day without regret or unworthy feelings. We use ample amounts of fresh-picked wild sage in this formula which is famous in desert lore for its ability to clear a toxic mind and heart.
Naturally Gluten Free / No Animal Testing / Made In The USA
Place a small dab of cream between the fingers and rest the hands lightly over the face in a soft caress, carrying a fine protective coat to the face. Feel the skin begin to cool and calm, then watch the clear, rosy glow appear. Resist rubbing or pushing at the delicate facial skin.
INTUITIVE SKIN CARE:
Add a drop or two of Rain Replenishing Oil to Clarity for an extra rich, night time recovery cream. You control exactly how much nourishment your skin needs!
Sprinkle Ashes Reincarnation Cleansing Grains over Clarity, add a little fresh water and create the most luscious, hydrating 20 minute mask you've ever experienced.
Aqueous infusion of desert sage**, juniper berry**, chaparral**, dandelion* & alfalfa*. Olive oil*, glyceryl stearate, cetearyl alcohol, sodium stearoyl lactylate, cold pressed coconut oil*, aloe vera juice*, cetyl alcohol, vegetable glycerin*, caprylhydroxamic acid, caprylyl glycol, rice powder (non-GMO), vitamin E T-50, coenzyme Q10, sugar cane*, wild raw honey, wasabi extract, vitamin B3, CO2 calendula extract*. Rose attar, gardenia attar, juniper berry EO.
*Organic **Wildcrafted
EO: Essentail Oil
Essential Oil Blend
Cools, calms, reduces blotchy skin, restores balance, protects, brightens
Wild Desert Infusion
Treats acne or hormonal skin, boosts collagen, free radical defense, improves circulation, calms, brightens, reduces redness, soothes, detoxifies, supports healthy cells
Olive Oil
Maintains a healthy moisture level in the skin, antioxidant protection, restores smooth skin texture, prevents free radical damage
Wasabi Extract
Preservative, boosts skin defense, promotes healing, promotes circulation
Dandelion Leaf
Detoxifies, fights free radicals, treats acne, stimulates cell repair, firms, brightens, protects
Alfalfa
Oxygenates, encourages collagen production, reduces inflammation, firms, brightens
Rice Powder
Conditions, supports cells, improves elasticity, smoothes fine lines, promotes healing
Coconut Oil
Protects healthy tissues, softens, moisturizes, protects, reduces pore size, evens skin tone, promotes healing, treats acne, smoothes fine lines, repairs damaged skin
Aloe Vera
Heals, calms, soothes, softens
Sugar
Brightens, promotes cell turn over
Calendula
Heals, regenerates, soothes, reduces inflammation, restores moisture, smoothes fine lines, protects thinning skin, brightens
Coenzyme Q10
Powerful antioxidant, penetrates deep, promotions the production of collagen and elastin needed to maintain firm flexible skin, prevents the breakdown of collagen that causes sag, fine lines and wrinkles.
Wild Desert Honey
Powerful humectant, fights free radicals, treats irritated skin, promotes healthy cell turn over, plumps, calms, rejuvenates, smoothes skin tone
Vitamin B
Brightens, improves skin tone, maintains moisture levels, protects skin cells
Caprylhydroxamic Acid
Preservative. An amino acid (organic compounds that are essential building blocks of life) derived from coconut oil.
We are women who know what we want. When we set out to create a line of clean, luxury skincare formulas SIZE was a top priority. Because yes, size matters. We want our customers to feel pampered, unlimited, and connected to our products. This is why we create highly-concentrated formulas (a little goes a long way) but we don't stop there. We strive to surpass standard sizes you have become accustomed to.
We feel like beauty industry standard sizes just aren't good enough. Our full-size facial formulas are usually twice the standard size. Our Deluxe Minis last for 2-3 weeks rather than a single-use sample that you find at the beauty counters. So go ahead, there is plenty in each bottle to treat yourself like the goddess you are.
Wow!
What an amazing face cream! Never have I ever used such a moisturizing cream. It actually soaks into your skin, never feeling greasy, and it makes my skin feel so soft! Wish I had found this sooner!
The Moisture You Needed
The Clarity Face Cream is everything you didn't know you needed in a moisturizer. Its not oily, its not sticky, its not heavy and it doesn't just sit on the surface of your skin.
The Clarity Cream has been apart of my daily routine for 6 years and I've never looked back. It leaves your face feeling dewy all day long!
Why did I wait so long?
The most buttery and supple moisturizer. Leaves my face feeling better each time.
Empowering
This cream is so luscious and healing. It smells like heaven and I can feel Mother Earth taking care of me when I use it.
Wow
My face feels soft and supple after use, and it smells amazing!