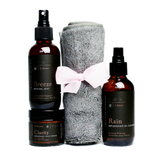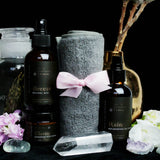 Good Medicine Beauty Lab
Keep it Simple Set (K.I.S.S.)

We combined three of our best-selling skin care products + a naturally anti-bacterial bamboo fiber washcloth to create this stunning set.
THIS SET INCLUDES THREE FULL SIZE PRODUCTS & BAMBOO FIBER WASHCLOTH:
RAIN REPLENISHING OIL CLEANSER 4 oz. 

CLARITY AWAKENING FACE CREAM 2 oz.
BREEZE REVIVAL MIST 4 oz.
BAMBOO FIBER WASHCLOTH

Outside of this gorgeous bundle, these four full-size products would cost $123!
We are women who know what we want. When we set out to create a line of clean, luxury skincare formulas SIZE was a top priority. Because yes, size matters. We want our customers to feel pampered, unlimited, and connected to our products. This is why we create highly-concentrated formulas (a little goes a long way) but we don't stop there. We strive to surpass standard sizes you have become accustomed to.
We feel like beauty industry standard sizes just aren't good enough. Our full-size facial formulas are usually twice the standard size. Our Deluxe Minis last for 2-3 weeks rather than a single-use sample that you find at the beauty counters. So go ahead, there is plenty in each bottle to treat yourself like the goddess you are.
Love
I love this set, my skin looks moisturized and fresh, The washcloth is very soft. I feel very special when I use it. Thank you Good Medicine.
Wonderful Set!
This is such a great set, I've ordered it twice now! So nice to have a few of my favorites all together already. The washcloth is super soft and luxurious too!