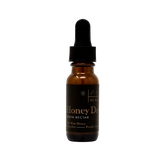 Good Medicine Beauty Lab
HONEY DEW Youth Nectar

Cucumber, Wild Honey & Prickly Pear
*Now with Tremella/Snow Mushroom extract! Natures hyaluronic acid and retinol.
Allow the desert to gift you a dewy, bright, youthful complexion. Our developing fluid lightly hydrates and noticeably firms, tightens and strengthens the skin. It acts as a porous mask and creates an all-day shield from wrinkle-causing free-radical damage. We expertly combine beneficial essential oils and freshly juiced organic superfoods to deliver vitamins, minerals, and antioxidants resulting in sustainably healthy skin. We call it "youth nectar" because it quickly diminishes dark circles, smooths fine lines, reduces water retention, and lifts dark spots. Wildcrafted with love to help you turn back the clock.
BEAUTY TIP: Use Honey Dew as a makeup primer for a beautiful finish.
BEAUTY BLEND: To quickly brighten dull skin, cleanse with Honey Dew and Ashes Reincarnation Cleansing Grains.
BEAUTY BLEND: Combine Honey Dew and Rain Replenishing Oil Wash to create an ultra light face moisturizer perfect for warm sunny days or coastal living.
Use Regularly To Help
Reduce lines, wrinkles, discolorations & blemishes
Stimulate collagen production
Plump & soften the skin
Tighten pores & brighten the complexion
Reduce acne flareups
Cool, soothe & heal sun-kissed skin
Protect from environmental damage
It's Good Medicine
As bees gather morning dew from flower petals and change it into a golden nectar fit for the gods, so we have turned the honey and precious moisture from fresh fruits, potatoes, and wild desert botanicals into a beautiful fluid for the face. Draped in this golden cloak of sweet nectar, Honey Dew brings you rays of sunshine, joy and energy.
How To Indulge
1 / Activate your natural moisture barrier to restore a balanced, resilient skin tone
Place a small amount of Honey Dew on your fingertips and apply to the face and neck area with light tapping motions. Begin at the forehead and follow the bone structure around the eyes, cheek bones, nose and chin line, finishing at the neck and chest. This lovely tapping motion enhances the performance of your serum and drives the concentrated, vital ingredients deep into the layers of the skin.
2 / Firm the skin's natural contours to define facial structure
Complete the application with a light sweeping, upward motion, as if you are removing dust from your face, to aid in the definition of bone structure. As Honey Dew combines with your own precious skin oils, your face will look smooth and moist, like a flower in morning sunlight.
Enlivened Ingredients
Spring water. Freshly juiced cucumber*, grapefruit*, lime*, potato*. Aloe vera juice*, xanthan gum, caprylhydroxamic acid, caprylyl glycol, wild raw honey, olive oil*, prickly pear oil*, vegetable glycerin*, tremella mushroom extract, lecithin*, vitamin E T-50, CO2 calendula extract*. Juniper berry EO, frankincense attar, amber attar, myrrh attar.
*organic **wildcrafted
EO: Essential Oil
Essential Oil Blend
Antiseptic, calms, soothes, stimulates, supports cell turnover, reduces inflammation or red skin tone, hydrates, detoxifies, treats acne, reduces appearance of pores, purifies, promotes new cell growth, stimulates collagen, improves elasticity, firms
Cucumber Juice
Soothes irritated skin, reduces puffiness, fights free radicals, reduces inflammation, reduces the appearance of dark circles, brightens, tones and tightens pores, firms
Organic Potato
Promotes a healthy glow, firms, stimulates collagen, hydrating, treats acne, cleansing, smoothes the appearance of fine lines, reduces dark spots, reduces puffy skin
Grapefruit Juice
Treats blemishes, fights free radicals, reduces the appearance of fine lines, evens skin tone, gently cleanses, restorative, softens, improves circulation, firms
Lime Juice
Boosts collagen, brightens, treats acne, promotes healthy cell turnover, balances oily skin, reduces dark spots, restores healthy glow
Aloe Vera
Calms, soothes, heals, softens skin tone, hydrates
Wild Honey
Powerful hydrator, fights free radicals, treats and soothes irritated skin, promotes healthy cell turnover, plumps, firms, calms, revitalizes
Lecithin
Strengthens, improves dry skin, restores damaged skin, moisturizes, softens, tightens, returns supple skin tone
Olive Oil
Penetrates for deep moisture, protects moisture barrier, boosts collagen, firms, balances oil production, supports healthy cells, softens, reduces fine lines, diminishes pores, nourishes, free radical defense
Calendula
Preservative, heals, regenerates, soothes eczema and inflammation, hydrates, maintains moisture barrier, smoothes fine lines, protects thinning skin, brightens skin tone
Naturally Gluten Free / No Animal Testing / Made In The USA
We are women who know what we want. When we set out to create a line of clean, luxury skincare formulas SIZE was a top priority. Because yes, size matters. We want our customers to feel pampered, unlimited, and connected to our products. This is why we create highly-concentrated formulas (a little goes a long way) but we don't stop there. We strive to surpass standard sizes you have become accustomed to.
We feel like beauty industry standard sizes just aren't good enough. Our full-size facial formulas are usually twice the standard size. Our Deluxe Minis last for 2-3 weeks rather than a single-use sample that you find at the beauty counters. So go ahead, there is plenty in each bottle to treat yourself like the goddess you are.
Seriously the best!
My new fav! I love the way my skin looks and feels, and the smell is amazing! Got my husband using it too. He told me his face feels great and pores seem smaller. He also has acne prone skin and this has seemed to help keep the acne at bay!
Better than Botox
The Honeydew Youth Nectar is by far my most used and beloved product by GMBL. I have been using this formula for the past 6 years and I am convinced its the leading reason why I have not needed to resort to any fillers or botox for my skin.
Historically I have incredibly sensitive skin and suffered with adult acne in my 20s. This caused all kinds of scaring, and discoloration. When I started using Honeydew, within a month of using it twice a day (morning and night), I could see a visible difference in my skin.
I now also use the Honeydew on my chest in the morning and after every shower. It truly leaves your face glowing and you can feel the tightening affects once its been fully absorbed.
The smell is not potent, the feel of the serum is silky and its insane for long this product will last you. I buy the full size only twice a year - I use this product Every. Single. Day.
The Gold Standard for Hydrated, Young-Looking Skin
If I could only recommend one product from Good Medicine, without a doubt it's Honeydew. It simultaneously hydrates and firms without making my skin feel oily or oversaturated. I love how it leaves my skin with a matte finish — perfect for layering on other skincare products or makeup (I don't personally wear makeup). The product is incredibly versatile, I use it in about 4 or 5 different ways. It works well right after cleansing on it's own — just patting a few drops it lightly onto the face. It works flawlessly mixed in with Clarity as a firming cream option. I love using it around my neck mixed in with a thicker mask after shaving for a calming, firming option. I love the way it smells. I love the way it feels. This is an incredible product and you should absolutely try it.
Will never be without
I started using this a little over 4 years ago. I use this every morning after I get out of the shower. I spritz rosewater on my face. Put some honey dew in my hand with 2-3 drops electric sky and mix it together. Then pat on my face. I have super sensitive skin and this works amazing. I rarely get breakouts.
At Home Spa Day
It is so easy to see why Honeydew Nectar is one of the creator's favorite products within the GMBL arsenal! Upon application, it almost feels as if flowers are enveloping the face in scent and protective coating. Wonderful product!!!