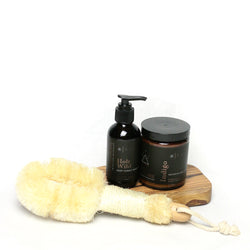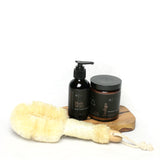 Good Medicine Beauty Lab
SUNSET BODY SET

HOLY WILD BODY OIL (4 OZ.)
LILY OF THE VALLEY, JUNIPER & CEDARWOOD
Step into a lush forest, teeming with life. This gorgeous body oil transports you to an emerald dream. Lily of the valley, fresh juniper berries, and cedarwood invigorate and rejuvenate the body and mind while luscious oils of avocado, kukui, and olive hydrate and nourish your skin, leaving you glowing and fresh.
This is the Holy Wild – the sacred dance of all that is. Listen as whispering trees share the secrets of the forest.
USE IT REGULARLY
Hydrates & moisturizes
Protects & heals
Guards against environmental toxins
Fights infections
INDIGO RESTORING BODY CREAM (9 OZ.)
FRANKINCENSE, AMBER & MYRRH
Indigo penetrates deep into the layers of the skin, boosting hydration and delivering nourishing vitamins to your precious outer coat. Saturated in a nutritive base of our wild desert tincture, it provides your skin with vital elements needed to heal, regenerate and flourish. It is loaded with ionized minerals and natural alkaline solutions that have extraordinary antibiotic, antiviral and anti-fungal properties that preserve the health and beauty of the skin.
This blend of essential oils is designed to preserve, tighten and soften the skin. Frankincense has been used for centuries to reverse the signs of aging as well as diminish stretch marks and scars. It quickly rejuvenates your skin and rebuilds its natural resiliency. The sensual aromas lift the spirit and calm a nervous mind, bringing deep relaxation.
USE REGULARLY TO HELP
Promote new cells
Protect healthy tissues
Tighten & tone
Rejuvenate the skin
Soften the signs of aging
Diminish stretch marks & scarring
NATURAL SISAL BODY BRUSH
TRADITIONAL JAPANESE STYLE BRUSH FOR FULL BODY EXFOLIATION
Indulge in the ancient wisdom and numerous health and beauty benefits of dry brush massage. For more details and how-to tips, check out our post about The Beautiful Benefits of Dry Brushing.
Dry brush dimensions: 10" W x 4" D x 2" H
Sisal bristles woven through a wire core.
Wooden handle wrapped in sisal rope.
Hang dry if it gets wet.
We are women who know what we want. When we set out to create a line of clean, luxury skincare formulas SIZE was a top priority. Because yes, size matters. We want our customers to feel pampered, unlimited, and connected to our products. This is why we create highly-concentrated formulas (a little goes a long way) but we don't stop there. We strive to surpass standard sizes you have become accustomed to.
We feel like beauty industry standard sizes just aren't good enough. Our full-size facial formulas are usually twice the standard size. Our Deluxe Minis last for 2-3 weeks rather than a single-use sample that you find at the beauty counters. So go ahead, there is plenty in each bottle to treat yourself like the goddess you are.
Amazing Set
I absolutely love this set. The brush works wonders and the oil leaves my skin so hydrated.
beautiful gift set
I absolutely love this set to give the gift of self care for the goddesses in your life. Used my daughters set she had just received in the mail and I need one for myself! I would wear this everday!
New Obsession
I absolutely love this set! The body brush is perfect, the oil leaves my dry skin feeling soft and silky, and the body cream is the perfect touch whenever my skin needs some extra TLC. and bonus, they both smell AMAZING.