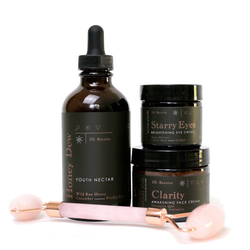 Good Medicine Beauty Lab
Super Natural Beauty Set

We combined our three best-selling skin care products + a gorgeous rose quartz and rose gold roller to create this stunning set.
THIS SET INCLUDES THREE FULL SIZE PRODUCTS & A ROSE QUARTZ FACIAL ROLLER:
HONEY DEW YOUTH NECTAR 4 oz. 

CLARITY AWAKENING FACE CREAM 2 oz.
STARRY EYES BRIGHTENING EYE CREAM 1 oz.
ROSE QUARTZ FACIAL ROLLER
Outside of this gorgeous bundle, these three full-size products would cost $168... and you get the quartz roller too!


ABOUT HONEY DEW
CUCUMBER, WILD HONEY & PRICKLY PEAR
Allow the desert to gift you a dewy, bright, youthful complexion. Our developing fluid lightly hydrates and noticeably firms, tightens and strengthens the skin. It acts as a porous mask and creates an all-day shield from wrinkle-causing free-radical damage. We expertly combine beneficial essential oils and freshly juiced organic superfoods to deliver vitamins, minerals, and antioxidants resulting in sustainably healthy skin. We call it "youth nectar" because it quickly diminishes dark circles, smooths fine lines, reduces water retention, and lifts dark spots. Wildcrafted with love to help you turn back the clock.
BEAUTY TIP: Use Honey Dew as a makeup primer for a beautiful finish.
BEAUTY BLEND: To quickly brighten dull skin, cleanse with Honey Dew and Ashes Reincarnation Cleansing Grains.
BEAUTY BLEND: Combine Honey Dew and Rain Replenishing Oil Wash to create an ultra light face moisturizer perfect for warm sunny days or coastal living.
USE REGULARLY TO HELP
Reduce lines, wrinkles, discolorations & blemishes
Stimulate collagen production
Plump & soften the skin
Tighten pores & brighten the complexion
Reduce acne flareups
Cool, soothe & heal sun-kissed skin
Protect from environmental damage

ABOUT CLARITY
COENZYME Q10, ROSE & CALENDULA
Upon contact, Clarity calms, cools and clarifies the skin. This potent face cream delivers vitamins, minerals, and free-radical fighting antioxidants right where they are needed most! Clarity's concentrated botanicals penetrate deep into the skin, restoring the skin's natural moisture barrier bringing a rosy glow to the surface. It reveals a bright, soft, enlivened complexion with a gorgeous matte finish. Antioxidants, anti-inflammatories and phytonutrients soothe, moisturize, and protect delicate facial tissue. May it bring your skin to bloom like a wild desert rose.
INTUITIVE SKIN CARE:
Add a drop or two of

 

Rain Replenishing Oil to Clarity for an extra rich, night time recovery cream. You control exactly how much nourishment your skin needs!
Sprinkle

 

Ashes Reincarnation Cleansing Grains

 

over Clarity, add a little fresh water and create the most luscious, hydrating 20 minute mask you've ever experienced.
USE IT REGULARLY TO:
Firm and tone
Brighten the complexion
Protect from environmental damage
Reduce inflammation
Calm red areas and heal acne
Reduce skin discoloration & pigmentation
Protect against microbial infections
Combat bacteria
Boost collagen


ABOUT STARRY EYES
CARROT SEED, ALGAE EXTRACT & COQ10
The skin around your eyes is as delicate as a desert flower. Our unique formula warms and tingles as it quickly brightens, hydrates and awakens the eye area. Starry Eyes is packed with vitamins, minerals, humectants, and antioxidants to help repair the skin's natural defense system, boost collagen and protein production, and guard against environmental stress and free radicals. This intense therapy formula provides deep hydration, improved blood circulation, and increased cell reconstruction. Open your eyes to a brighter world.
USE REGULARLY TO HELP:
Reduce dark circles & firm puffy eyes
Diminish fine lines & wrinkles
Increase collagen production & elasticity
Increase longterm tightening of the skin
Strengthen the skin's connective tissues
Boost the skin's natural regeneration process
Protect against environmental damage
We are women who know what we want. When we set out to create a line of clean, luxury skincare formulas SIZE was a top priority. Because yes, size matters. We want our customers to feel pampered, unlimited, and connected to our products. This is why we create highly-concentrated formulas (a little goes a long way) but we don't stop there. We strive to surpass standard sizes you have become accustomed to.
We feel like beauty industry standard sizes just aren't good enough. Our full-size facial formulas are usually twice the standard size. Our Deluxe Minis last for 2-3 weeks rather than a single-use sample that you find at the beauty counters. So go ahead, there is plenty in each bottle to treat yourself like the goddess you are.
Trio
This trio of skincare is perfect for anyone who has wrinkles or signs of aging. Even just dry skin! I have been using this combo for a few months now and my face has never been so cleat. I love!
I love it
My 3 lovely products and also the roller. Honey Dew is a really youth nectar. After applying a few drops of nectar, massageyour skin with face roller(you can see the technics on YouTube). Do it as a teraphy. after then use Clarity and Starry eyes. You can do face massage after applying this all 3 products.
I love it
My 3 lovely products and also the roller. Honey Dew is a really youth nectar. After applying a few drops of nectar, massageyour skin with face roller(you can see the technics on YouTube). Do it as a teraphy.