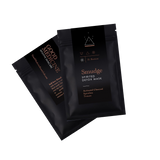 Good Medicine Beauty Lab
SMUDGE Spirited Detox Mask

Activated Charcoal, Spirulina, Tomato
You've never seen anything like it. From the desert wilds comes an activated charcoal mask to detoxify, nourish, and transform your skin. Just add water to bring it to life. Now it's ready to release powerful nutrients into your skin. We added organic tomato powder to the list of earthy ingredients to deliver a healthy dose of vitamin C and A. How about a touch of the seaweed superfood, spirulina, to transform troubled skin into healthy, glowing skin? It won't dry or deplete your skin like other masks, instead it will leave it clean, renewed, and ready to take on the world.
The Ritual (3 Minute Detox Mask)
Mix a quarter size amount of Smudge with fresh water in the palm of your hand to create a thin, fluid texture. Use your finger tips to smooth the fluid over your face and neck area in gentle, sweeping motions. Relax for 3 minutes and enjoy the warm, tingling sensation. Rinse completely with fresh water and follow with Honey Dew Youth Nectar and Clarity Awakening Face Cream.
Intuitive Beauty Blends
1 / Purifying Mask
Amazing for acne prone or overly oily skin conditions.
Mix a quarter size amount of Smudge powder with 3 pumps of Purity Perfectly Clear Skin Tonic or fresh water in the palm of your hand. Smooth this powerhouse compound over the entire face and neck area using circular motions. Leave it on for 3 minutes (longer is not better). Gently remove with a warm moist washcloth.
2 / Detoxifying & Hydrating Mask
Perfect for acne prone, sensitive or dry skin conditions.
Mix a quarter size amount of Smudge Spirited Detox Mask with Honey Bee Blossoming Revelation Mask in the palm of your hand. Cover the entire face and neck area using slow, gentle circular motions. Leave on no longer than 5 minutes. Remove with either a warm or cool moist washcloth. Rinse with fresh water.
Enlivened Formula
Bentonite clay, sodium bicarbonate, raw organic activated coconut shell charcoal, citric acid (sugar derived), organic spirulina, organic tomato powder.
Naturally Gluten Free / No Animal Testing / Made In The USA
We are women who know what we want. When we set out to create a line of clean, luxury skincare formulas SIZE was a top priority. Because yes, size matters. We want our customers to feel pampered, unlimited, and connected to our products. This is why we create highly-concentrated formulas (a little goes a long way) but we don't stop there. We strive to surpass standard sizes you have become accustomed to.
We feel like beauty industry standard sizes just aren't good enough. Our full-size facial formulas are usually twice the standard size. Our Deluxe Minis last for 2-3 weeks rather than a single-use sample that you find at the beauty counters. So go ahead, there is plenty in each bottle to treat yourself like the goddess you are.
A Mask for even Sensitive Skin
I have very sensitive skin, dry with rosacea and eczema, and most masks are too harsh, leaving my skin irritated and red around my mouth and nose. I got a sample of Smudge a while back and it's just perfect. It soothes my skin and leaves it super soft after use, doesn't irritate or cause redness. I use this alone or mixed with the honey bee mask twice a week and the difference in my skin is noticeable.
Smudge mask
This without a doubt is the best mask I've ever used!
Spiritual detox
The green powder fizzles into such a nice foam, I love the product start to finish. From the fabulous foam to the pulling of toxins. It always leaves my skin feeling like I had a natural face lift. Amazing for a relaxing and rejuvenating night in.
Detox
Love the way this pulls all of the toxins out of my skin and leaves me feeling so soft and fresh!!
!!
Oh my goodness I love how it foams and is so light to spread on the skin! Once it dries you can see the green spirula color come out. Absolutely love it and feels like a potion for my skin!