Good Medicine Beauty Lab
STARRY EYES Brightening Eye Cream
Carrot Seed, Algae Extract & CoQ10
The skin around your eyes is as delicate as a desert flower. Our unique formula warms and tingles as it quickly brightens, hydrates and awakens the eye area. Starry Eyes is packed with vitamins, minerals, humectants, and antioxidants to help repair the skin's natural defense system, boost collagen and protein production, and guard against environmental stress and free radicals. This intense therapy formula provides deep hydration, improved blood circulation, and increased cell reconstruction. Open your eyes to a brighter world.
Use Regularly To Help:
Reduce dark circles & firm puffy eyes
Diminish fine lines & wrinkles
Increase collagen production & elasticity
Increase longterm tightening of the skin
Strengthen the skin's connective tissues
Boost the skin's natural regeneration process
Protect against environmental damage
FOR BEAUTY TIPS & SKINCARE RECIPES VISIT OUR SKIN MOOD GUIDE 
Each formula is a ritual unto itself and an opportunity to be playful and tap into your innate wisdom. There are no rules when it comes to creating your self-care rituals, only gentle suggestions to guide you on your path of discovery.

Your intuition is what makes Good Medicine truly unique. We understand every woman has different needs. Each Good Medicine product is formulated to be seamlessly fused with another. Combine our formulas to create entirely new products that serve entirely new purposes.

Our skincare collection is formulated with blending in mind. So when you purchase our products, you are actually getting much more than you bargained for.
IT'S GOOD MEDICINE
Non-toxic + Cruelty-free + Gluten-free + Non-GMO + Infused with Love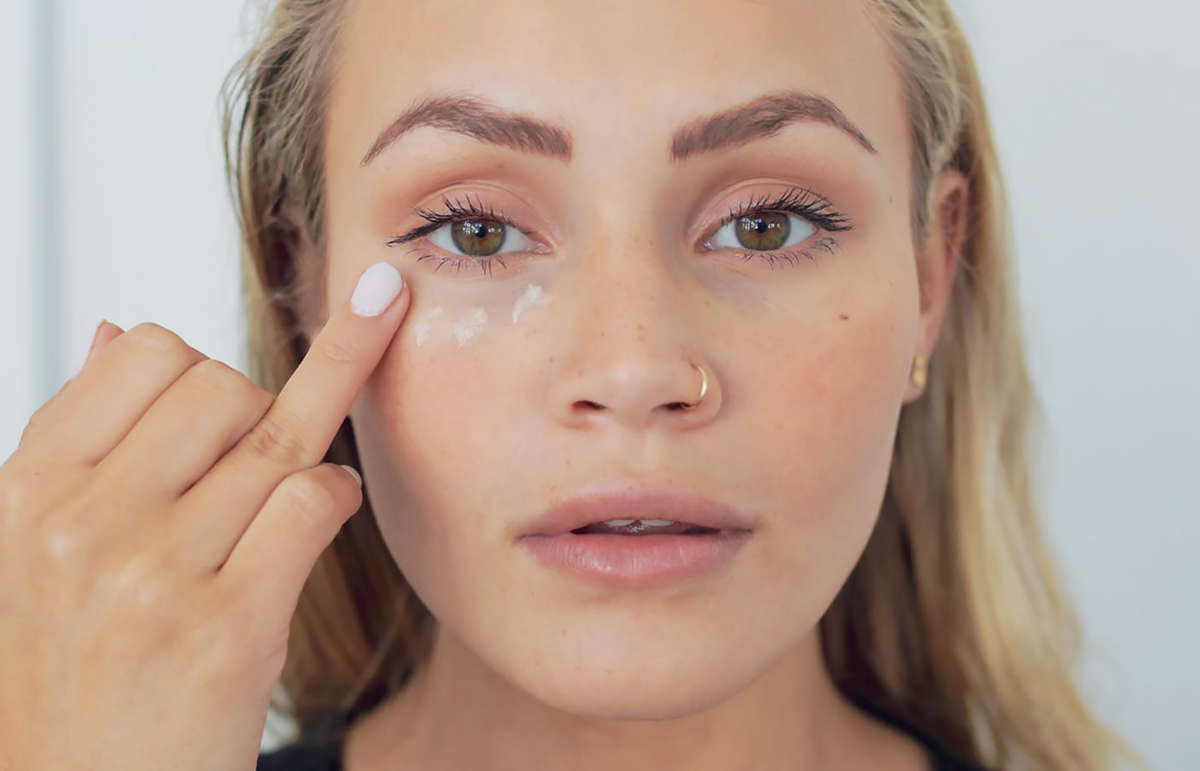 APPLICATION IS KEY TO GETTING THE MOST OUT OF STARRY EYES
Begin by dabbing little dots around the eye socket where the eyebrow ends and finishing near your nose. Once you have a happy little train of skin loving dots, use two fingers to gently press them into the skin along the trail, following with a gentle tapping motion until the cream has married your skin.
Feel a slight warming of the area as the cream smoothes fine lines, hydrates, rejuvenates and firms puffy eyes. For immediate and lasting results, use it daily.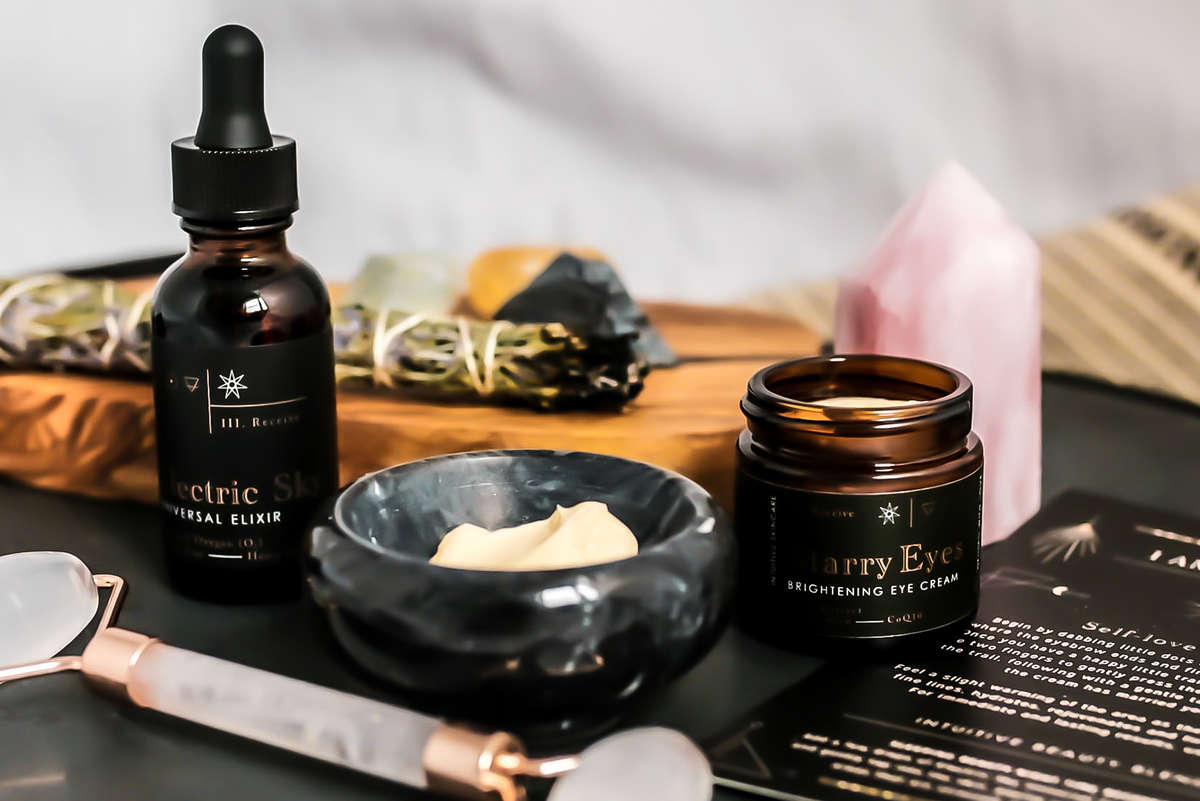 INTUITIVE BEAUTY BLEND FOR BRIGHT, BEAUTIFUL EYES
For intensive, night-time, under eye circle treatment, apply a drop of Electric Sky on your fingertips and gently pat it into the skin surrounding your eyes. Follow with Starry Eyes to seal in the power of ozone and regenerate the eye area while you sleep.


To maintain bright, clear under eyes, add a drop or two of Electric Sky to your Starry Eyes on your fingertips and gently blend before tapping the mixture into the skin surrounding your eyes. This treatment quickly awakens the entire eye area and is the perfect way to start your day.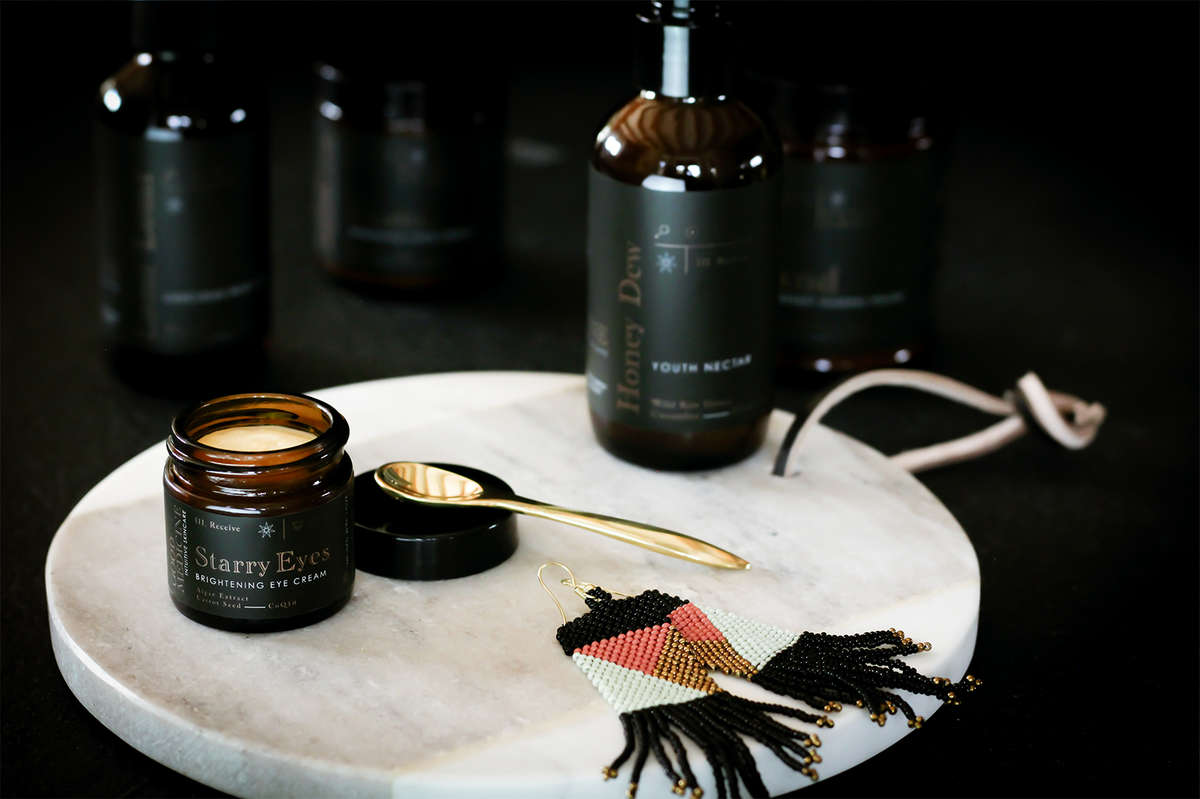 SIZE MATTERS
We are women who know what we want. When we set out to create a line of clean, luxury skincare formulas SIZE was a top priority. Because yes, size matters. We want our customers to feel pampered, unlimited, and connected to our products. This is why we create highly-concentrated formulas (a little goes a long way) but we don't stop there. We strive to surpass standard sizes you have become accustomed to. We feel like sending you a .5 oz jar of eye cream (standard size) was just not good enough. Our full-size Starry Eyes is one full ounce of supercharged goodness. Our Deluxe Mini is .25 ounces rather than a single-use sample that you find at the beauty counters. So go ahead, there is plenty in each bottle to treat yourself like the goddess you are.
GIFTS FROM THE EARTH
ENLIVENED INGREDIENTS: Aqueous infusion of desert sage**, juniper berry**, chaparral**, dandelion*, alfalfa*. Olive oil*, glyceryl stearate, cetearyl alcohol, sodium stearoyl lactylate, cold pressed coconut oil*, aloe vera juice*, cetyl alcohol, vegetable glycerin*, caprylhydroxamic acid, caprylyl glycol, rice powder, wild raw honey, raw beeswax, avocado oil, sweet almond oil, sesame seed oil*, kukui nut oil*, castor oil*, jojoba oil*, shea butter*, cocoa butter*, aloe butter*, mango butter*, vitamin E T-50, coQ10, vitamin B3, tripeptide-29, acetyl hexapeptide-8, algae extract, pullulan, CO2 calendula extract*, wasabi extract. Rosemary EO, rosewood EO, carrot seed EO, geranium EO, rose attar, frankincense attar, amber attar, myrrh attar.


*organic | **wildcrafted | EO: Essential Oil