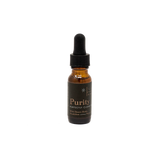 Good Medicine Beauty Lab
PURITY Perfectly Clear Tonic

Wild Desert Herbs, Dandelion & Peppermint
A tonic as clean and pure as the wild desert plants we harvested to create it. Purity is formulated, with superhero ingredients including dandelion and peppermint, to quickly reduce inflammation and combat bacteria. A perfect combination of powerful botanicals gently and effectively rebalance excess oil and sebum production, reducing acne flareups. An abundance of ionized minerals, alkaline solutions and anti-fungal properties form a protective shield, promoting new cell production. Purity feels clean and light on the skin. Take a quiet moment and think to yourself; this is how my skin was meant to feel. 
Use Regularly To Help
Restore skin's natural pH balance
Protect from infections
Protect against inflammatory breakouts
Clear dead skin cells & harmful toxins
Brighten & soften the skin
Shrink pores & tighten skin tone
Increase cellular metabolism
Balance the production of sebum
It's Good Medicine
We collect the gifts from the desert, nurtured by sunlight and rain and bottle them with love especially for our friends who cannot be here. As you feel your skin come alive, tingle with brightness and dance again, may you think of us and may your heart warm.
How To Indulge
Shake gently before use. Moisten a cotton pad with Purity. Gently, with upward motions, cleanse and purify the face and neck, cleaning thoroughly any bacteria or dirt left on the skin. You can also apply by simply splashing drops of Purity on your face and neck with your hands and sweeping in upward motions. Leave a light layer of Purity on the skin.
Enlivened Formula
Aqueous infusion of desert sage**, juniper berry**, chaparral**, dandelion*, alfalfa*. Aloe vera juice*, potato*, caprylhydroxamic acid, caprylyl glycol, vegetable glycerin*, wild raw honey, bicarbonate soda, citric acid (sugar derived), 50+ trace mineral sea salts, raw apple cider vinegar*, milk*, sugar cane*. Peppermint EO, juniper berry EO, lily of the valley attar, cedarwood EO, lime EO, fir EO, geranium EO, vetiver EO.
*Organic **Wildcrafted
EO: Essential Oil
Essential Oil Blend
Renews a healthy glow, soothes, restores even skin tone, exfoliates, treats acne, soothes eczema, boosts skin's immunity, calms, increases circulation, detoxifies, nourishes, moisturizes, boosts collagen

Peppermint Essential Oil
Cools irritated skin, purifies, stimulates circulation, treats acne
Wild Desert Infusion
Cell boosting immunity, strengthens skin integrity, antibacterial agents treat and protect skin from acne, healthy cell support, boosts collagen, treats dryness, improves circulation, brightens, protects from free radical damage, calms, reduces redness, soothes irritated skin, detoxifies, improves circulation, supports healthy cells
Dandelion Leaf
Detoxifies, diminishes free radical damage, treats acne, firms, brightens
Aloe Vera
Calms, soothes, softens
Wild Desert Honey
Powerful humectant, fights free radicals, treats and soothes irritated skin, promotes healthy cell turnover, plumps, calms, rejuvenates
Apple Cider Vinegar
Treats acne, restores balance, soothes irritated skin, increases skin health and ability to fight environmental issues, assists in delivering hydrating ingredients
Powdered Potato
Protects from free radical damage, boosts collagen, improves elasticity, cleans, mild exfoliation, plumps, treats and clears blemishes, brightens, softens, maintains balanced skin, moisturizing
Sugar
Brightens, promotes cell turnover, controls overactive oil production
Milk
Soothes dry skin, calms stressed skin, removes debris from clogged pores, brightens, diminishes the appearance of age spots, assists in maintaining moisture, plumps, protects cells from damaging free radicals
Trace Minerals
Heals, treats acne, soothes irritated skin, protects, calms, softens
Naturally Gluten Free / No Animal Testing / Made In The USA 
We are women who know what we want. When we set out to create a line of clean, luxury skincare formulas SIZE was a top priority. Because yes, size matters. We want our customers to feel pampered, unlimited, and connected to our products. This is why we create highly-concentrated formulas (a little goes a long way) but we don't stop there. We strive to surpass standard sizes you have become accustomed to.
We feel like beauty industry standard sizes just aren't good enough. Our full-size facial formulas are usually twice the standard size. Our Deluxe Minis last for 2-3 weeks rather than a single-use sample that you find at the beauty counters. So go ahead, there is plenty in each bottle to treat yourself like the goddess you are.
Best Toner. Period.
I absolutely 100% believe this toner assisted in clearing the stubborn hormonal acne always present on my chin. I suffered from amenorrhea (no period) for eight years. Due to being highly type-a and easily stressed, my chin acne consistently persisted. However, this toner will forever be a lifelong product found within my medicine cabinet arsenal!
Purity skin
I love this stuff it is not too harsh on the skin as if clears deep pores and acne from my skin. I have dry skin so this is nice to clear my skin without damage or reactions. I use this in my back too I am pregnant and have had back acne and this stuff has really helped me.
This is my fav!!! It makes my skin glowing! There's no chemicals that irritated my skin. I also have super sensitive skin and this helps moisture it! Thank you
Trace minerals
I love that this formula has trace minerals to replenish through the skin! Phenomenal!
Light and refreshing
This is the perfect toner that is so gentle yet powerful. Perfect amounts of eo's that it doesn't irritate my sensitive skin. It is thin enough that I would love the see the mini bottle in spray form rather than the dropper, but it looks like the large size is in a sprayer.