WE WILL GUIDE YOU
YOUR INTUITION WILL TELL YOU
YOUR SKIN WILL SHOW YOU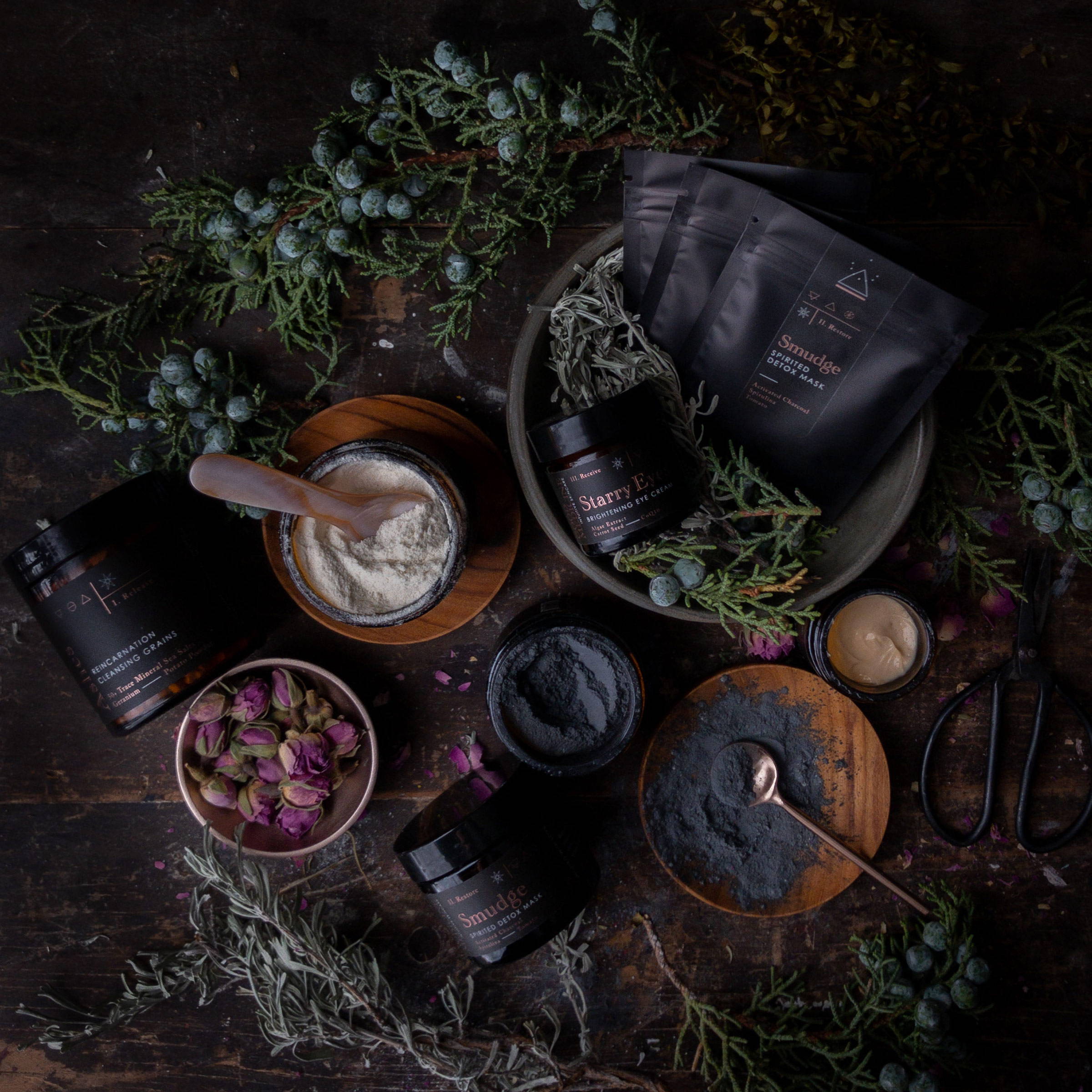 The most incredible thing about Good Medicine Intuitive Skincare®, is how seamlessly our products blend together to create whole new healing formulas. You are the formulator. We could choose to create hundreds of products, one for every use under the sun, but instead, we create a handful of power-house products that work together to heal virtually any skin issue.
Each formula is a ritual unto itself and an opportunity to be playful and tap into your innate wisdom. There are no rules when it comes to creating your self-care rituals, only gentle suggestions to guide you on your path of discovery.
Your intuition is what makes Good Medicine truly unique. We understand every woman has different needs. Each Good Medicine product is formulated to be seamlessly fused with another. Combine our formulas to create entirely new products that serve entirely new purposes. Our skincare collection is formulated with blending in mind. So when you purchase our products, you are actually getting much more than you bargained for.
What's Your Current Skin Mood?
How do I know if my skin is acne-prone?
You know your skin is acting acne-prone when it looks irritated, has formations of blemishes, may be discolored, or has some redness and larger pores. Acne-prone skin can be oily, shiny, dry, damaged or all of the above.
Take it slow.
When you experience an increase in hormones or stress, your skin may overproduce its natural oils, resulting in a breakout. When these oils combine with inflammation-causing bacteria and a build-up of dead skin cells, your pores clog, and blemishes are the result. The key: balancing your skin's oil production, resetting your skin's delicate pH balance, and calming inflammation. These deep-cleaning formulas are designed to heal your acne-prone skin and leave it looking clean and bright.
How do I know if my skin is being sensitive?
If your skin is easily irritated, red or reactive, you experience a stinging or burning sensation when you apply product – your skin is definitely acting sensitive.
Our recommendation? Go back to the basics.
Sensitive skin is a result of it being out of balance. When skin is out of balance and in a reactive mood, it isn't able to benefit from antioxidants and nutrients. It must first be calmed, soothed, and balanced. The key: keep it simple when it comes to caring for your sensitive skin. Our formulas help heal and protect your skin while it regulates and returns to its natural state. These specific hand-crafted formulas are ideal for calming, soothing, balancing, and hydrating your sensitive skin. Remember, your skin needs you to listen when it's over reacting – it's literally screaming at you to pay attention. Help it restore itself by backing off and letting it get some much needed rest.

How do I know if my skin is too dry?
You know your skin is dry if it's dull, has rough patches, at times can be flaky or peel. Pronounced fine lines and an ashy or red skin tone are also clues.
Summon soft, fluffy rain clouds.
Surprisingly, dry skin isn't actually about lack of moisture. It's actually about damage done to your skin's natural moisture barrier. When caring for dry skin, it is critical to avoid over exfoliation or using harsh cleansers, acids, or chemicals on your skin. The key: encourage and strengthen your skin's natural processes. Do this by using gentle, moisturizing products that allow the skin to repair and renew. Simple changes to your skincare routine can and turn dry, lackluster skin into soft, supple, glowing skin.
How do I know if my skin needs aging support?
If you're noticing fine lines, wrinkles, or loss of volume and elasticity – your skin will benefit from these inspired blends formulated especially for maturing or damaged skin.
There is wisdom in loving ones self.
With age comes increased wisdom and a newfound freedom to love yourself as you are. We believe beauty comes from nourishing ourselves with actions of self-love and care. It's not about wrinkles. While nothing can stop the passage of time, making conscious choices to care for your skin will soften the process. The key: repairing the moisture barrier. A consistent skincare routine, healthy habits, proper sun exposure, nutrition and hydration are also important factors when caring for your skin. These healing formulas are hand-selected to repair and rejuvenate your skin, so you can live, love, and flourish at any age.

Do you know about our Starter Sets?
We carefully curate each Starter Set to specifically address your skin issues. After thousands of facials and spa treatments, we've learned which combinations really work. These sets are easy to use and contain ample amounts of product so you can really get to know them. Knowing which products your skin loves is important to incorporating new formulas into your daily ritual.
Starter Sets arrive at your doorstep in a beautiful bag with a complete skincare booklet.