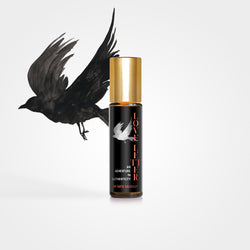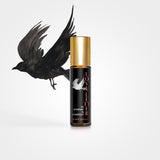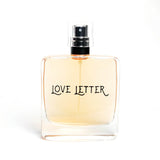 Good Medicine Beauty Lab
LOVE LETTER / Botanical Perfume by Katie Dalebout

An Adventure In Authenticity
Sometime ago, we fell in love with our dear friend Katie. She is the acclaimed author of book "Let It out" and a talented podcast host where she holds a space for creativity, positive energy, and authenticity.
Together, we created "Love Letter" – a sweet, lush, vibrant fragrance that combines the sensuous floral notes of magnolia with the warm, seductive aromas of coconut and vanilla.
A LOVE LETTER FROM KATIE
"I've wanted to be a person with a signature scent for as long as I can remember. I tried everything but nothing screamed 'me' like a signature scent should. I found things that smelled nice sure, but they were all synthetics I didn't love having on my skin on the regular. So when Good Medicine & I decided to team up to create something that was both 100% natural and 100% me I was thrilled, yet nervous. 'What do I know about fragrances?' I thought. I'm sure you're asking that question too. The truth is I'm not a pro but after this process of tirelessly working with the Good Medicine Lab I learned more about essential oils and notes in scents than I even knew existed, the result? A light, sweet, WONDERFUL fragrance I hope we can all wear like a favorite outfit. This fragrance is for us, to remind us of our own natural beauty whenever we forget it's there."
Stay true,
Katie
TOP NOTES: Magnolia
HEART NOTES: Coconut
BASE NOTES: Vanilla
Perfume Spray Base: Artisan Alcohol
Rollerball Base: Sweet Almond Oil
Full Size Base: Artisan Alcohol
We are women who know what we want. When we set out to create a line of clean, luxury skincare formulas SIZE was a top priority. Because yes, size matters. We want our customers to feel pampered, unlimited, and connected to our products. This is why we create highly-concentrated formulas (a little goes a long way) but we don't stop there. We strive to surpass standard sizes you have become accustomed to.
We feel like beauty industry standard sizes just aren't good enough. Our full-size facial formulas are usually twice the standard size. Our Deluxe Minis last for 2-3 weeks rather than a single-use sample that you find at the beauty counters. So go ahead, there is plenty in each bottle to treat yourself like the goddess you are.
Botanicles
I will never wear another perfume again. This perfume is subtle while at the same time intoxicating. The name couldn't be more fitting. If you have ever been on the recieving end of a Love Letter, then you will know how this smell makes you feel.
Sweet floral scent
I love this perfume and I totally wear it year round. It's a little coconut, subtle vanilla notes and a sweet magnolia finish. Definitely my go to perfume.
Smells familiar
Love Letter smells very familiar, almost nostalgic. It makes me think of warm, sunny skies and tan skin on summer vacation. It's warm, coconutty, and overall a very nice smell. I don't think I could wear this year-round but definitely will be a great summer fragrance.
Calming
I received love letter spray, for the first time, with my order and let me just say, it's fabulous! The fragrance is not overwhelming, it is very calming and feels like walking into garden on a warm summers day. I think I will purchase the rollerball in hopes that the fragrance will last longer though. I have noticed that with the spray, I have to use a lot, and the fragrance fades quickly. I will update my review after I purchase the rollerball.
pleasant smell
This is a nice perfume, it is a little on the sweet side but not too much. I found it to be floral but mild. I would recommend.