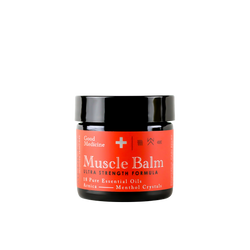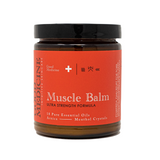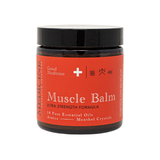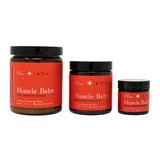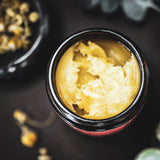 Good Medicine Beauty Lab
MUSCLE BALM

HEALING + SOUL FIRE
Healing and deep penetrating warmth, like the desert sun. This miraculous topical remedy is formulated to dilate the peripheral blood vessels increasing circulation. The increased blood flow speeds up the body's natural healing processes. The active ingredients and essential oils provide powerful, long-lasting pain relief and eases discomfort due to aching joints and tired, knotted muscles. Relax and surrender to the warm sensation, followed by a refreshing coolness. Play hard, then surrender and allow Muscle Balm to heal your aching body and ignite your soul.
Benefits
18 inflammation & pain-relieving oils
No fillers or petroleum
Natural cocoa butter & beeswax base
Absorbs quickly
Fast-acting for hours of relief
Pleasant non-medicinal smell
Concentrated formula
Promotes calm & relaxation
Reduces systemic inflammation
Relieves
Sinus congestion (topical)
Chest congestion (topical)
Shoulder & neck tension
Aching joints & muscles
Tired aching feet
Muscle cramps or spasms
Muscle & joint inflammation
Tension headaches
Body stress
Nausea
Menthol crystals, cocoa butter*, shea butter*, coconut oil*, olive oil*, raw beeswax, vitamin E T-50. Hand-selected essential oils of peppermint, camphor, lavender, tea tree, lemon, ginger, juniper berry, rosemary, cinnamon, wintergreen, eucalyptus, black pepper, clove bud, birch, arnica, nutmeg, galbanum, cayenne.
*organic **wildcrafted
BENEFITS
Peppermint Oil
Stimulates lymphatic system, analgesic, revives sore muscles and joints, uplifts mental fatigue, relieves nausea
Wintergreen
Stimulant, analgesic, astringent, relieves aches and pains, relieves arthritis systems
Cayenne
Systemic healing, contains carotenoids and alkaloids, increases circulation, regulates blood flow, equalizes and strengthens capillaries and nerves
Arnica
Relieves pain, stimulates, antibacterial, anti-inflammatory, reduces pain and swelling, improves wound healing, relieves arthritis symptoms, relieves painful joints, relieves bruises and sprains, reduces cartilage pain and swelling
Lemon
Improves circulation, relieves respiratory congestion
Clove
Antimicrobial, antifungal, antiviral, analgesic, anesthetic, antioxidant, stimulates circulation for relief of inflammation
Camphor
Analgesic, antiinflammatory, antiseptic, relieves nervous tension, relieves arthritis symptoms, relieves muscular aches and pain, relieves chest congestion
Cinnamon
Improves circulation, warming action
Ginger
Increases muscular circulation, relieves strains and or sprains
Black Pepper
Warming, relieves sore muscles and joints, disperses bruising, increases circulation to the skin
Rosemary
Increases circulation, relieves excess muscle tension, breaks up congestion when applied to chest
Galbanum
Anti-arthritic, anti-rheumatic, antispasmodic, relaxes the muscles and nerves to relieve spasms, stimulates circulation, breaks up chest congestion (topically), disinfects, detoxifies
Lavender
Relieves anxiety, stress, nausea and headaches
Tea Tree
Natural antibacterial and antifungal agent, prevents and treats wound infection
Juniper Berry
Relieves nervous tension and mental exhaustion, disperses fluid retention
We are women who know what we want. When we set out to create a line of clean, luxury skincare formulas SIZE was a top priority. Because yes, size matters. We want our customers to feel pampered, unlimited, and connected to our products. This is why we create highly-concentrated formulas (a little goes a long way) but we don't stop there. We strive to surpass standard sizes you have become accustomed to.
We feel like beauty industry standard sizes just aren't good enough. Our full-size facial formulas are usually twice the standard size. Our Deluxe Minis last for 2-3 weeks rather than a single-use sample that you find at the beauty counters. So go ahead, there is plenty in each bottle to treat yourself like the goddess you are.
Don't think twice
This is a game changer. I am completely obsessed with this cream! It's go to for headaches, backaches etc. You won't regret it!
magic in a jar
Do yourself a favor and just buy it. This stuff is incredible and I recommend it to everyone!!
Wonderful relief!
This is the absolute best muscle cream!!! It really soaks in and greatly relieves my pain. It's more effective than anything else I've tried.
The best muscle cream!
Better than icy hot! We looked for a better option than the store brands with cleaner ingredients that actually works and this has worked perfectly! Smells great and really helps relief pain. A little goes a long way.
Tiger Balm on Steriods
I have never been so happy with a product! Tiger balm sucks in comparison to this balm! The Muscle Balm is what made me fall in love with Good Medicine years ago. I have share this with anyone having muscle pains or after surgeries. I was able to get a local chiroprator to start carrying it. The balm not only smells amazing it eases pain in joints and muscles. The ingredients are natural along with healing.