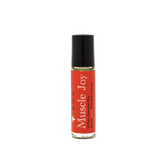 Good Medicine Beauty Lab
MUSCLE JOY

 ULTRA-STRENGTH MUSCLE & JOINT PAIN RELIEF
Now in an amazing roller-ball applicator!

The same powerful formula of Muscle Balm that you know and love, but in a base of sweet almond oil. It's packaged in a roller bottle so it's easier than ever to apply at home or on the go. Did we mention that the oil base allows it to be absorbed into the skin at record speed?

So if you just beat your own personal best at that hill climb on your bike, or hiked a splendid peak, or just slayed your at-home workout, Muscle Joy has got your back. Literally.

Ingredients: Peppermint EO, white camphor EO, lavendee EO, tea tree EO, lemon EO, ginger EO, nutmeg EO, juniper berry EO, rosemary EO, cinnamon EO, wintergreen EO, eucalyptus EO. black pepper EO, clove bud EO, birch EO, arnica EO, galbanum EO, cayenne EO, menthol crystals, sweet almond oil, vitamin E-T50.
EO: Essential oil
We are women who know what we want. When we set out to create a line of clean, luxury skincare formulas SIZE was a top priority. Because yes, size matters. We want our customers to feel pampered, unlimited, and connected to our products. This is why we create highly-concentrated formulas (a little goes a long way) but we don't stop there. We strive to surpass standard sizes you have become accustomed to.
We feel like beauty industry standard sizes just aren't good enough. Our full-size facial formulas are usually twice the standard size. Our Deluxe Minis last for 2-3 weeks rather than a single-use sample that you find at the beauty counters. So go ahead, there is plenty in each bottle to treat yourself like the goddess you are.
Buy It Already - You Won't Regret It!
This is the perfect tool & blend to put in your hairline when headaches around your temples & the C3-C7 areas of your neck. I have very short hair & this is just sooo welcome when sinus, tension, migraine, hormone or allergy headaches strike. The warming & cooling blend are felt and while it may not make it completely go away, the relaxation & general soothing sensation is a blessed break from the throbbing. I'm happy to say for me, this definitely is a mandatory tool in my headache tool box. AND it's also perfect to carry with you for a refreshing treatment for tired & achy feet. That alternating warming & cooling sensation is truly to be experienced for hours after application.
The best!
I bought this roller ball applicator for the first time in 2022 and I will keep buying it! I use it for headaches, to relax, and even for allergic reactions (peppermint is good for itchiness and it is the first ingredient). There's nothing else like it on the market. Thank you GM lab!
Amazing stuff for sore muscles and enhancing relaxation
I borrowed this product from a friend not really thinking much was gonna happen but let me tell you. I applied it on my lower back for my back pain and immediately I started to feel relief. I even applied on neck and shoulders and this formula just put me muscles at ease. Not only is it amazing for reducing pain, this stuff smells amazing! It will even work as a Vicks vapor rub alternative for those who want to open up their sinuses. I love it so much I'm purchasing my own haha.
Love this for travel!
I use the Muscle Balm religiously for my pain but this is the perfect little travel companion version. It's no mess and hassle-free! My partner's mom loves it after I bought her one and has been recommending it to many of her friends too.
My Favorite
Please don't stop making this! I used to buy the muscle balm, which I love but can be hard/messy to use. This rollerball liquid version is just as effective and so convenient. I can throw one into my bags and have in case of pain, which is often. I have low back pain, stiff neck and shoulders and it helps with stress too. I bought a bunch and gave one to my best friend and she loves it too!