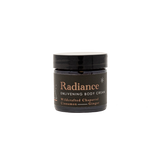 Good Medicine Beauty Lab
RADIANCE Enlivening Body Cream

Wildcrafted Chaparral, Cinnamon & Ginger
Radiance penetrates deep into the layers of the skin, boosting hydration and delivering nourishing vitamins to your precious outer coat. Saturated in a nutritive base of our wild desert tincture, it provides your skin with vital elements needed to heal, regenerate and flourish. It is loaded with ionized minerals and natural alkaline solutions that have extraordinary antibiotic, antiviral and anti-fungal properties that preserve the health and beauty of the skin.
It soothes sore and tired muscles, firms and improves elasticity restoring a supple and soft skin tone. When applied with a gentle patting motion, it has a colloidal action that reduces waste fluids captured beneath the skin's surface. This remarkable body cream makes your skin come alive. It quickly smooths, firms and improves your skin elasticity creating a youthful, vibrant, radiant glow.
Use Regularly To Help
Increase cellular metabolism
Reduce inflammation
Relieve aches & pains
Improve blood circulation
Heal troubled skin
Firm & tone loose skin
How To Indulge
After a warm bath or shower, while skin is still damp, place the cream in your palm. Rub your hands together and lightly pat over your skin – covering the body completely with a delicate protective coating. Feel the skin begin to warm and tingle like radiant sunlight dancing along its surface.
Enlivened Formula
Aqueous infusion of desert sage**, juniper berry** chaparral**, dandelion*, alfalfa*. Olive oil*, aloe vera juice*, glyceryl stearate, cetearyl alcohol, sodium stearoyl lactylate, cetyl alcohol, rice powder, sugar cane*, vegetable glycerin*, cold pressed coconut oil*, CO2 calendula extract*, wild raw honey, wasabi extract, vitamin E T-50, vitamin B3, caprylhydroxamic acid, caprylyl glycol. Juniper berry EO, cinnamon EO, ginger EO.
Wildcrafted** Organic*
EO: Essential Oil
Essential Oil Blend
Detoxifies, improves circulation, protects, heals, firms, soothes, enlivens
Wild Desert Tincture
Treats acne or hormonal skin, boosts collagen, free radical defense, improves circulation, calms, brightens, reduces redness, soothes, detoxifies, supports healthy cells
Olive Oil
Maintains a healthy moisture level in the skin, antioxidant protection, restores smooth skin texture, prevents free radical damage
Wasabi Extract
Preservative, boosts skin defense, heals, promotes circulation
Dandelion Leaf
Detoxifies, fights free radicals, repairs cells, firms, brightens, protects
Alfalfa
Oxygenates, encourages collagen production, reduces inflammation, firms, brightens
Rice Powder
Conditions, supports cells, improves elasticity, heals
Coconut Oil
Protects healthy tissues, softens, moisturizes, protects, heals, repairs damaged skin
Aloe Vera
Heals, calms, soothes, softens
Sugar
Brightens, promotes cell turn over
Calendula
Heals, regenerates, soothes, reduces inflammation, restores moisture, protects thinning skin, brightens
Wild Desert Honey
Powerful humectant, fights free radicals, treats irritated skin, promotes healthy cell turn over, plumps, calms, rejuvenates, smoothes skin tone
Rosemary Extract
Moisturizes, supports collagen production, improves circulation, fights free radicals, heals
Vitamin B
Brightens, improves skin tone, maintains moisture levels, protects skin cells
Caprylhydroxamic Acid
Preservative. An amino acid (organic compounds that are essential building blocks of life) derived from coconut oil.
Naturally Gluten Free / No Animal Testing / Made In The USA
We are women who know what we want. When we set out to create a line of clean, luxury skincare formulas SIZE was a top priority. Because yes, size matters. We want our customers to feel pampered, unlimited, and connected to our products. This is why we create highly-concentrated formulas (a little goes a long way) but we don't stop there. We strive to surpass standard sizes you have become accustomed to.
We feel like beauty industry standard sizes just aren't good enough. Our full-size facial formulas are usually twice the standard size. Our Deluxe Minis last for 2-3 weeks rather than a single-use sample that you find at the beauty counters. So go ahead, there is plenty in each bottle to treat yourself like the goddess you are.
The best 'spa' body cream!
I've been using this for at least five years every morning and believe me, it smells like you are at the spa! I have never smelled anything like it and no pun intended, but it revives me every morning! It does improve my skin tone, and my skin is soft all day. But honestly, I bought it for the smell! It's a wonderful body lotion!
smells amazing
Smells amazing & buttery smooth!!
Best Body Cream ever!
I use this by itself and mixed with lomi lomi oil. It is wonderful.
Radiant
This really brings your skin back to life. I'm not sure what it is, but more vibrant than the other body creams in a way. Love to mix with lomi lomi
Dreamy!
This body cream is absolutely wonderful and smells amazing! It's helped my dry skin so much!