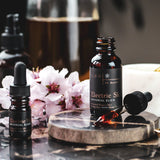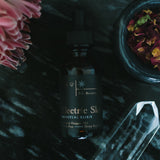 Good Medicine Beauty Lab
ELECTRIC SKY Universal Elixir

Activated Oxygen (O3), Prickly Pear & Hemp Seed Oil
 Loaded with activated oxygen (ozone / O3) and unlike any facial serum you've experienced, Electric Sky increases cellular function and micro-circulation. It literally breathes new life into your skin with every application, clearing stagnation and dullness. Ozone infused hemp seed oil cocoons the skin, shielding it from environmental aggressors. Just a few drops of this heavenly elixir morning and night is all that's needed to reclaim youthful skin that glows with life.
Formulated to help:
Increase circulation & luminosity
Diminish fine lines & wrinkles
Reduce acne & inflammation
Lift dark under-eye circles
Even out skin tone and pigmentation
Combat bacteria, fungus & microbes
Self-love Ritual
Place 6-8 drops of precious oil in your palm. Lightly touch your palms together then gently press the elixir into your skin. Give extra love and oil to your eye area, fine lines and wrinkles, dry spots, problem areas or blemishes.
Intuitive Blending
Electric Sky is a beautiful addition to supercharge your other skincare formulas. Just add a few drops to...
Enlivened Formula
Cannabis sativa (hemp) seed oil* with activated oxygen (ozone), castor oil*, black seed oil*, jojoba oil*, rosehip oil*, evening primrose oil*, argan oil*, prickly pear oil*, crrot seed oil*, cucumber seed oil*, vitamin E-T50, patchouli EO, geranium EO, frankincense attar.
*Organic
EO: Essential Oil
Storage
Our ozone has a medium shelf life, which is why refrigeration may be necessary for irregular usage. If you plan on using all of the product within six months, refrigeration is not necessary.
Why we use hemp seed oil
The Potential Ozonide Index shows how much ozone a particular oil can hold. Hemp's POI is 192.

Coconut (14) -- Castor (35) -- Jojoba (39) -- Avocado (90) -- Olive (92) -- Sunflower (153) -- Hemp (192)
Handcrafted In Our Lab / Small Batch / Naturally Gluten-free 
We are women who know what we want. When we set out to create a line of clean, luxury skincare formulas SIZE was a top priority. Because yes, size matters. We want our customers to feel pampered, unlimited, and connected to our products. This is why we create highly-concentrated formulas (a little goes a long way) but we don't stop there. We strive to surpass standard sizes you have become accustomed to.
We feel like beauty industry standard sizes just aren't good enough. Our full-size facial formulas are usually twice the standard size. Our Deluxe Minis last for 2-3 weeks rather than a single-use sample that you find at the beauty counters. So go ahead, there is plenty in each bottle to treat yourself like the goddess you are.
Amazing
I was worried that this would make my face shiny and oil, but I needed a new serum to try. This stuff is amazing! My skin absorbs it super well, it has made my skin look even, clear, and healthy. I love It and it has become part of normal routine.
Elixer for sure!
I was most skeptical using this product of all the items I had from my first order. The scent did take some getting used to, but the way it makes my skin look and feel is amazing. I use Electric Sky every evening along with the other products, and I feel like I have a daily professional facial!
Amazing
I love this SO MUCH! The smell, the way it feels absolutely everything about it! I highly recommend
Love it!
I love this product and use it alone and mixed with the others. I am not sure why a few said it smells bad, to each their own, but I really like the smell and I think it combines nicely with Clarity.
All around all star
I've been using this elixir for 3 years now. I combine this with clarity face cream and that is all the moisturizing I need. A few drops go a long way. It does not clog my face nor make it feel greasy. It seeps right in. My skin has looked more supple and has stayed cleared. I have a travel size of this too and don't want to use anything else.