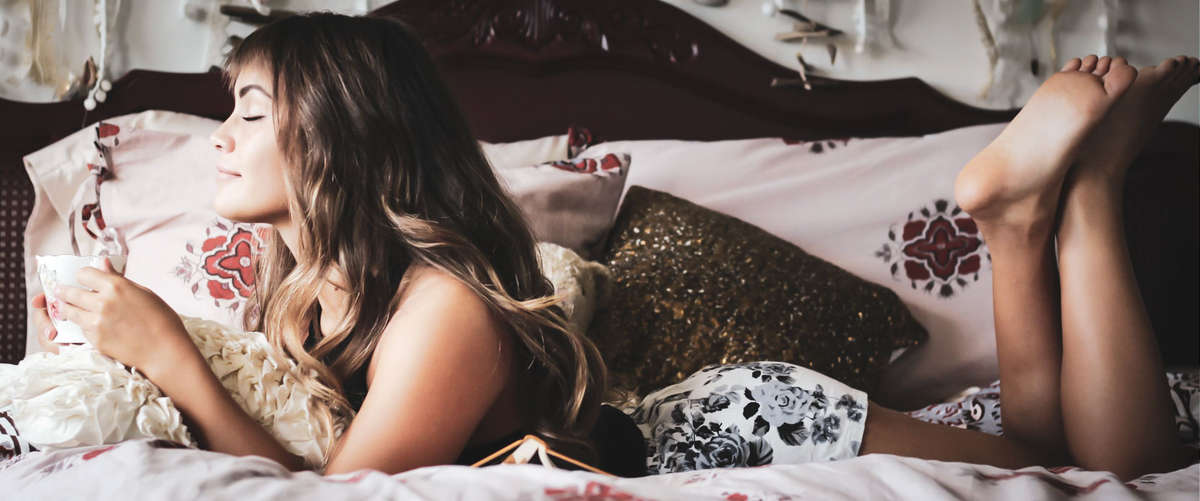 How do I know if my skin is being sensitive?
If your skin is easily irritated, red or reactive, you experience a stinging or burning sensation when you apply product – your skin is definitely acting sensitive.
Go back to the basics.
Sensitive skin is a result of it being out of balance. When skin is out of balance and in a reactive mood, it isn't able to benefit from antioxidants and nutrients. It must first be calmed, soothed, and balanced. The key: keep it simple when it comes to caring for your sensitive skin. Our formulas help heal and protect your skin while it regulates and returns to its natural state. These specific hand-crafted formulas are ideal for calming, soothing, balancing, and hydrating your sensitive skin. Remember, your skin needs you to listen when it's over reacting – it's literally screaming at you to pay attention. Help it restore itself by backing off and letting it get some much needed rest.
Intuitive blends for sensitive, moody skin
Rain

is sensitive skin's superhero.
When to use it? If you are in an extreme state of sensitivity – STOP! Scale back on your skincare immediately and use Rain exclusively for at least 1 week. This will reset your skin so that you can slowly add additional formulas to your routine. We recommend adding no more than one per week into your skincare routine. Listen to your skin. You will know when you can add more formulas to your beauty ritual.
Why we love it:
All of our Intuitive Skincare blends for sensitive skin include
Rain Replenishing Oil Cleanser
. It's way more than an oil wash and will be the most important, potent formula you have for calming sensitive skin and bringing your skin back into balance. cleansing is key to achieving this harmony. Over-cleansing, even with gentle face washes and soaps, can strip the microbiota and natural oils from your skin, leaving skin raw and reactive. Rain is loaded with nutritive, calming oils that target inflammation and soothe the skin. Once your skin is balanced and past the reactive state, you can expand your skincare ritual. But for now, sticking to the basics is what your skin needs most. Learning to trust not only what feels good, but honoring where you are now, will serve you well in your journey to achieving happy, radiant skin.
How to use it: Oil cleanse morning and night. Gently coat your entire face and throat area in cleansing oils. Using your fingertips, gently massage your skin in soft, circular motions for at least 30+ seconds to soften the skin and remove dirt, makeup and pollutants. The circular motion combined with the warmth of your fingertips creates a heating action to gently encourage pores to release waste. Use a soft dry or warm, moist wash cloth (a personal choice) to gently pat away the excess oil. Leave a light layer on your skin for moisture retention. Repeat with fresh oil if you were wearing makeup.
TIPS: Keep it in the fridge and apply it cold, to quickly relieve hot, inflamed skin. When your skin is acting sensitive, it is especially important to stay hydrated and drink lots of water.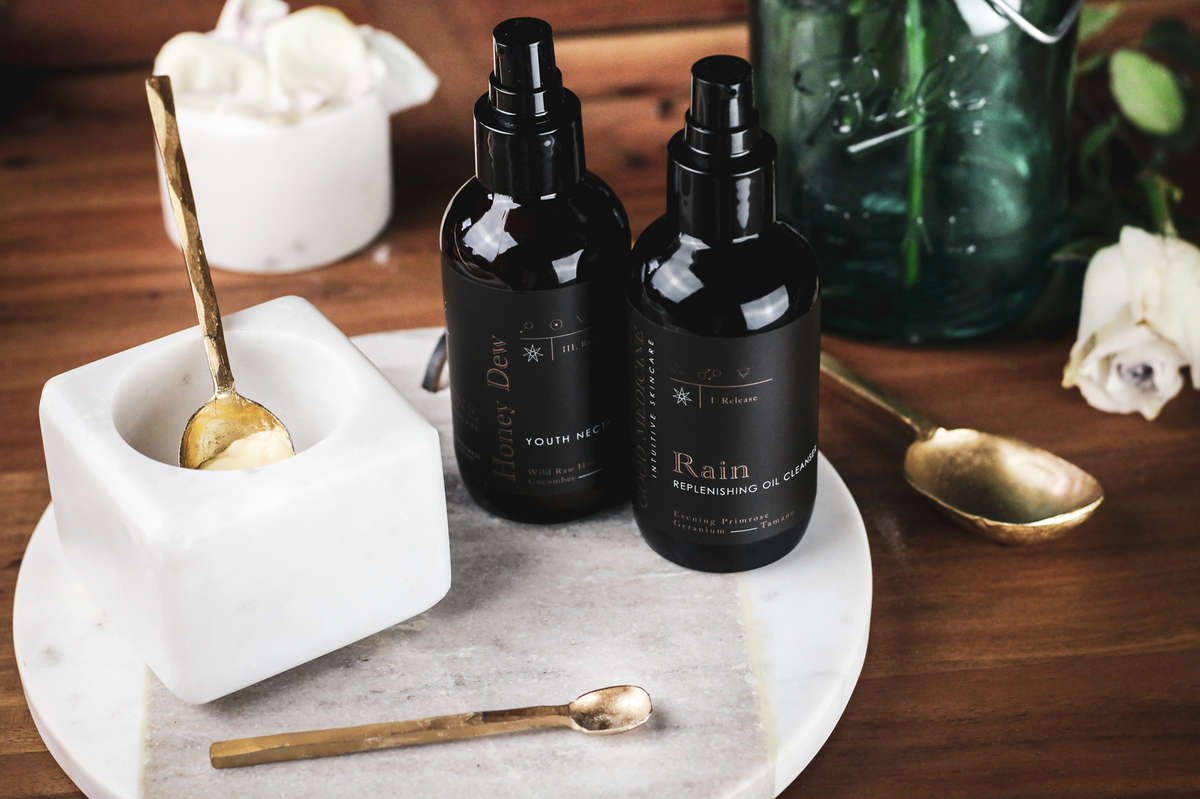 When to use it:
If your skin is itchy, red or irritated this should be your daytime moisturizer. These formulas combine to even out skin tone, calm, hydrate and form a breathable layer of protection from the elements.
Why we love it:
Superfoods and powerful oils create a lightweight blend that is ideal for sensitive skin.
How to blend:
1-2 pumps
Honey Dew Youth Nectar
+ 2-4 drops of
Rain Replenishing Oil Cleanser
Cleanse the skin thoroughly with Rain.
Apply a few spritzes of Breeze Revival Mist to aid penetration of creams and serums and cool the skin.
Apply the prepared mixture of Rain and Honey Dew to the entire face and neck area using your fingertips in light tapping motions until completely married to the skin.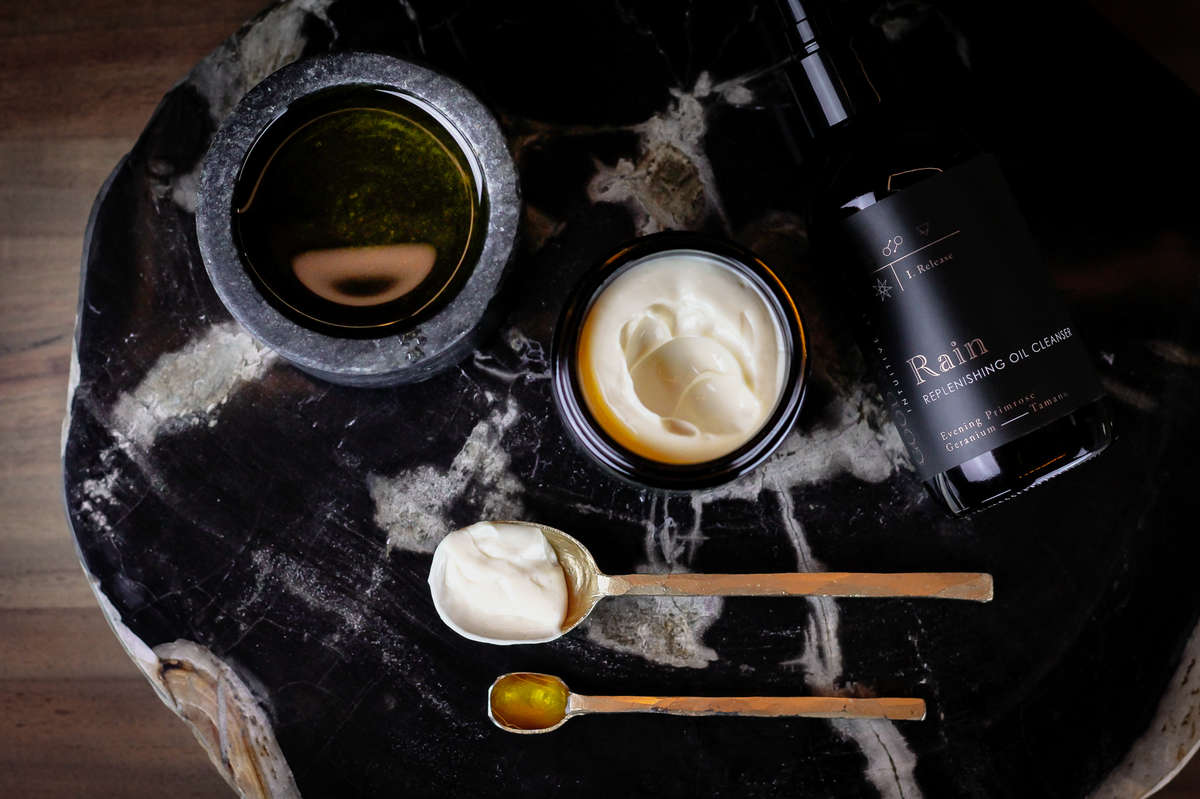 When to use it: Use this luscious blend to keep your skin soft and supple. Adding oils to your face cream transforms it into a restorative powerhouse. Acne-prone skin loves Rain and quickly falls in line.

Why we love it: Pump up hydration while you sleep to boost healing and rejuvenation.
Cleanse the skin thoroughly with Rain before bed. If wearing makeup you will want to repeat your cleanse.
Apply a few spritzes of Breeze Revival Mist and relish in the calming effects.
Apply the prepared mixture of Rain and Clarity to the entire face and neck area using your hands to gently press (not rub!) this gorgeous blend into the skin. Close your eyes and take a deep breathe, setting the intention for a peaceful sleep and deep healing.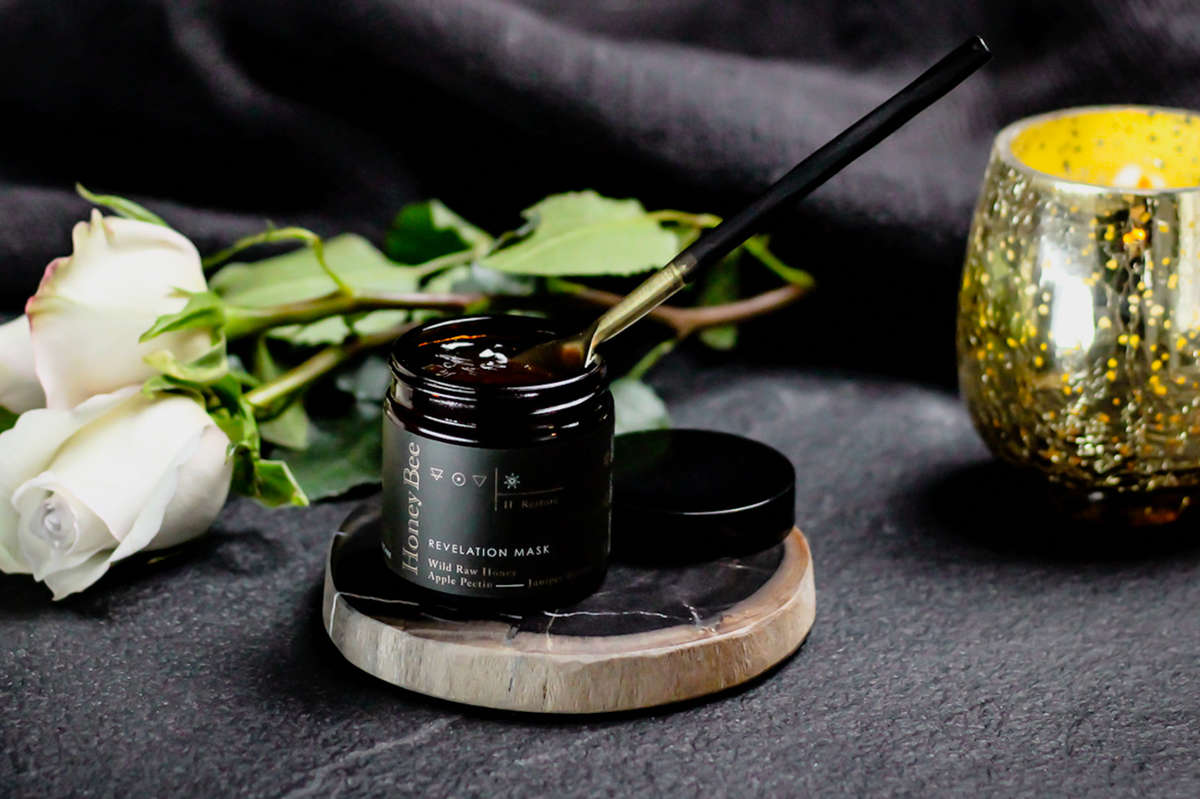 Mask 2x A Week with Honey Bee
When to use it:
Use twice a week while your skin is acting sensitive.
Why we love it:
Honey Bee Revelation Mask
is deeply soothing and a godsend for sensitive skin. Honey is a natural humectant. Honey actually takes moisture from the air and puts it into your skin! This luscious mask helps your skin really drink in the moisture and retain it longer. Resulting in deep-penetrating, long-lasting hydration.
Honey Bee effectively clears waste and dead cells from the skin's surface, so it's great to use when your skin is simply too sensitive for exfoliation.
Apply lightly to the face, avoiding the eye area with the fingertips or a brush.
Let this decadent mask sit on the skin up to 20 minutes.
Rinse with warm water until the honey is completely removed.
Follow immediately with Breeze Revival Mist and your moisturizing blend.
Shop our sensitive skincare formulas